"How beautiful are the feet of those who bring the Good News" ~Romans 10:15.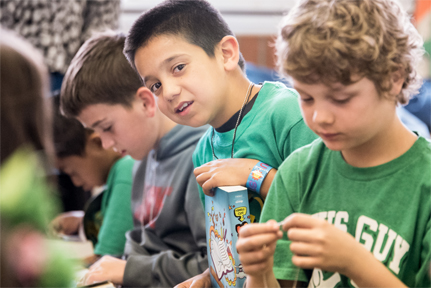 How about the privilege of taking the Good News to children right here in the public schools of New Mexico? Did you know that 85% of people who come to Christ do so between the ages of 4-14 and many of the children in our public schools are unchurched? Can you imagine getting to evangelize and disciple the children you see in the grocery store or standing at the bus stop?
Their hearts are open and ready to be transformed by God's Word but how can we do that? How can we reach these children? There is a spiritual battle being waged in schools cross America for the hearts of children and through bible clubs across America volunteers are allowed to serve school children and share God's Word. Follow the Son Bible Club is just one of them. Serving children right here in the East Mountains and Albuquerque area. Each child has a story; it's special and unique and can be used by God for His glory.
Take Emily for example, she came to a Bible Club at an elementary school in Albuquerque last year and told me after the first day, "I'm a Wiccan; but I'm a good witch; and I only do good things." What spiritual battles must be waging over this child's soul! What could I do? I asked her if she would keep coming to Bible Club and she said "Yes." As she attended bible club the rest of that year we prayed for her, we poured God's Word and as much love and attention into her as we possibly could. I wish you could have seen her face as she listened to God's Word and what Jesus did for her! Complete rapt attention! Before the end of the year she prayed to receive Christ with Pastor Charles and we watched her love for God grow.
Emily's brother, who always came early to pick her up, was very antagonistic toward his sister and us but we continued to try and engage him. We asked him to stay and wait until we were finished and by the end of the year he slowly did. FSBC volunteer Pam Oliva said, "I offered him a sucker while he waited for his sister, he took it and it was the first time he smiled at me, ever!" She said, "Isn't it amazing how God will work through something as insignificant as a sucker! We are so hoping that Emily will come back this year!" At last year's final program, Emily, he and his mom stayed to hear what Jesus had done for them. We can't know if their hearts were changed but we are praying that a seed was planted.
While some of the children will share their stories, for the most part we don't have any idea about the home lives of the children attending our public schools. But, you can be sure that they need your prayers. Some have father's in prison, others are being raised by their grandparents and still more in broken homes. True, some come from Christian homes but there is a spiritual battle and it's being waged right in front of us! Emily's is just one story…..there are so many more!
A mother at a parent program in Tomasita Elementary told us that her three children are now asking her to read the Bible with them at night instead of their chapter books. God's word is good! Now, mom's hearing the Word too and a family is being transformed by hearing God's word.
At another school, a Route 66 teacher shared that one little girl told her she always said John 3:16-17 to herself before she goes to sleep. (Two verses we have the kids memorize). How wonderful that she wants to be comforted with God's love through Jesus before sleeping!
Through FSBC, volunteers have been given a chance to transform the lives of children, families and schools! God gave us all these children to love! So will you step up as a prayer warrior for these children? As volunteer in these schools? Maybe you can donate suckers, meals or cookies…..the needs are great and there are so many ways to serve. Visit https://www.mountainchristianchurch.org/childrens-ministry to learn more the Follow the Sun Bible Club
0 comments
Announcements:
Men's Bible Study Fellowship starts THIS Tuesday, September 10 at 6:30pm in the MCC Library. This year they will be studying "Acts and Letters of the Apostles". BSF provides an in-depth, international Bible study that helps people know God and equips them to effectively serve the Church. Contact Tom Young.
Women's Community Bible Study begins this week; September 10th and 11th! The evening group meets Tuesdays at 6:30pm in the Fellowship Hall beginning September 10 and the morning group meets Wednesdays at 9:15am beginning September 11! Childcare is provided for the Wednesday study only. Contact Pam Cravens.
The Women's Peacemaking Study is Thursdays at 10:00am in the Conference Room beginning September 19. This study offers a meaningful, lasting message to lead you out of conflict and into a state of peace where you can live as a representative of Christ to other women and unbelievers. Contact Christine Leggett.
MCC Elders are hosting a 4-week Foundations Class starting September 15. This class is designed to better help you get to know MCC - who we are, what we believe and why, and how to get connected. Please sign up with Sarah.
With winter coming the Wood Ministry is already getting calls requesting wood but we need men, women, and couples to serve as sponsors! For those interested in learning about Wood Ministry sponsorship, there is a training Saturday, October 12th at 9:00am in the conference room. We would love to share what it means to be a sponsor and how sponsorship through the wood ministry changes lives by helping people see their own value and build their own support systems by sharing our time and a few cords of wood. Contact Sarah at the church office.
"You will receive power when the Holy Spirit has come upon you; and you shall be My witnesses both in Jerusalem, and in all Judea and Samaria, and even to the remotest part of the earth." Acts 1:8
Are you interested in being a witness for Christ in a remote part of the world? Have you wondered if a short-term mission trip is right for you? If so, join us for an informational meeting to discuss our Spring 2020 Bolivia Mission trip with Food for the Hungry next Sunday, September 8th after 2nd service in the Youth Hall. Contact Jennifer Ward.

Sisters in Stitches is meeting Wednesday, September 11 from 1:00 - 3:00 pm in the Fellowship Halll. All SIS and interested women are encouraged to join us to fellowship and discuss on-going plans for this ministry. Snacks will be provided. Contact Davra Clayton for more information and to RSVP .
ABQ Biblical Counseling is hosting "A Biblical Response to Mental Health Conference" September 13-15 at Desert Springs Church. Registrations will be accepted until September 12th! Visit abqbcc.com for more information.