"How beautiful are the feet of those who bring the Good News" ~Romans 10:15.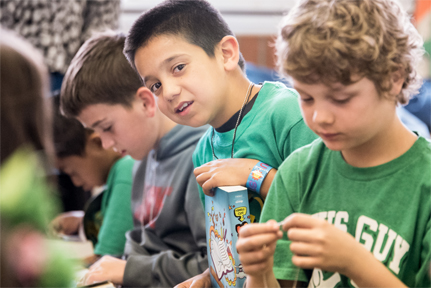 How about the privilege of taking the Good News to children right here in the public schools of New Mexico? Did you know that 85% of people who come to Christ do so between the ages of 4-14 and many of the children in our public schools are unchurched? Can you imagine getting to evangelize and disciple the children you see in the grocery store or standing at the bus stop?
Their hearts are open and ready to be transformed by God's Word but how can we do that? How can we reach these children? There is a spiritual battle being waged in schools cross America for the hearts of children and through bible clubs across America volunteers are allowed to serve school children and share God's Word. Follow the Son Bible Club is just one of them. Serving children right here in the East Mountains and Albuquerque area. Each child has a story; it's special and unique and can be used by God for His glory.
Take Emily for example, she came to a Bible Club at an elementary school in Albuquerque last year and told me after the first day, "I'm a Wiccan; but I'm a good witch; and I only do good things." What spiritual battles must be waging over this child's soul! What could I do? I asked her if she would keep coming to Bible Club and she said "Yes." As she attended bible club the rest of that year we prayed for her, we poured God's Word and as much love and attention into her as we possibly could. I wish you could have seen her face as she listened to God's Word and what Jesus did for her! Complete rapt attention! Before the end of the year she prayed to receive Christ with Pastor Charles and we watched her love for God grow.
Emily's brother, who always came early to pick her up, was very antagonistic toward his sister and us but we continued to try and engage him. We asked him to stay and wait until we were finished and by the end of the year he slowly did. FSBC volunteer Pam Oliva said, "I offered him a sucker while he waited for his sister, he took it and it was the first time he smiled at me, ever!" She said, "Isn't it amazing how God will work through something as insignificant as a sucker! We are so hoping that Emily will come back this year!" At last year's final program, Emily, he and his mom stayed to hear what Jesus had done for them. We can't know if their hearts were changed but we are praying that a seed was planted.
While some of the children will share their stories, for the most part we don't have any idea about the home lives of the children attending our public schools. But, you can be sure that they need your prayers. Some have father's in prison, others are being raised by their grandparents and still more in broken homes. True, some come from Christian homes but there is a spiritual battle and it's being waged right in front of us! Emily's is just one story…..there are so many more!
A mother at a parent program in Tomasita Elementary told us that her three children are now asking her to read the Bible with them at night instead of their chapter books. God's word is good! Now, mom's hearing the Word too and a family is being transformed by hearing God's word.
At another school, a Route 66 teacher shared that one little girl told her she always said John 3:16-17 to herself before she goes to sleep. (Two verses we have the kids memorize). How wonderful that she wants to be comforted with God's love through Jesus before sleeping!
Through FSBC, volunteers have been given a chance to transform the lives of children, families and schools! God gave us all these children to love! So will you step up as a prayer warrior for these children? As volunteer in these schools? Maybe you can donate suckers, meals or cookies…..the needs are great and there are so many ways to serve. Visit https://www.mountainchristianchurch.org/childrens-ministry to learn more the Follow the Sun Bible Club
0 comments
Announcements:
MCC Elders and Connectors are hosting a Starting Point Lunch this Sunday, January 12 after second service in the Fellowship Hall. The luncheon is a great way to learn more about MCC, ask questions and meet new people! No RSVP needed. Contact Sarah with questions.
It's time for The CareNet Baby Bottle drive! Please take a bottle off the table in the foyer, fill it with your spare change or cash, and return it to the table by January 19! Contact Joann Tallant with any questions.
The MCC Missions Team is hosting "Missions in Focus" Tuesday, January 21 and Wednesday, January 22 at MCC! It is a family-friendly, interactive event celebrating what God is doing locally and internationally! Enjoy a cultural meal, hear speakers active in local and foreign missions, and participate in activities for a chance to win prizes. Each night will be unique, educational and fun! Contact Emily Gray to RSVP or get involved!
The Women's Community Bible Study resumes Tuesday, January 14 at 6:30pm AND Wednesday, January 15 at 9:15am with Max Lucado's "Unshakable Hope" study. Childcare is available for the Wednesday morning study only. Contact Pam Cravens for Wednesday mornings or Sharon Albonico for Tuesday evenings.
Praying with others in community is rich! Join us any weekday morning for prayer at 6:00am in the Fellowship Hall. Contact Scott Walker for more info.
We are updating the church directory and will be taking new directory photos January 19 and 26 in the Fellowship Hall! Please make sure to update your contact information and your photo if A) we don't have it in the current directory or B) you look different than you did 3 years ago! Either way, we'd like a new photo and updated contact for you so please stop by and update your info!
Looking for some Biblical financial tools for 2020? Come join us for the Living Debt Free Workshop on February 1 from 9:00am – 3:00pm in the Fellowship Hall! Practical topics including what the Bible says about money, how to set up a spending plan, saving, debt payoff, and more! Lunch and child care provided! Sign up in the foyer or call Elisa Trullinger.