Shine
Shine is a city-wide organization that connects churches with Title 1 APS schools. Mountain Christian Church is privileged to serve A. Montoya Elementary School in Tijeras, NM. The goal of our relationship with A. Montoya is to meet the needs of the students, families, and teachers. We find ourselves being transformed as God uses our hearts and hands to bring transformation to this school and the community it serves. If you'd like more information, please contact Ashley Procter.

Stock the Lounge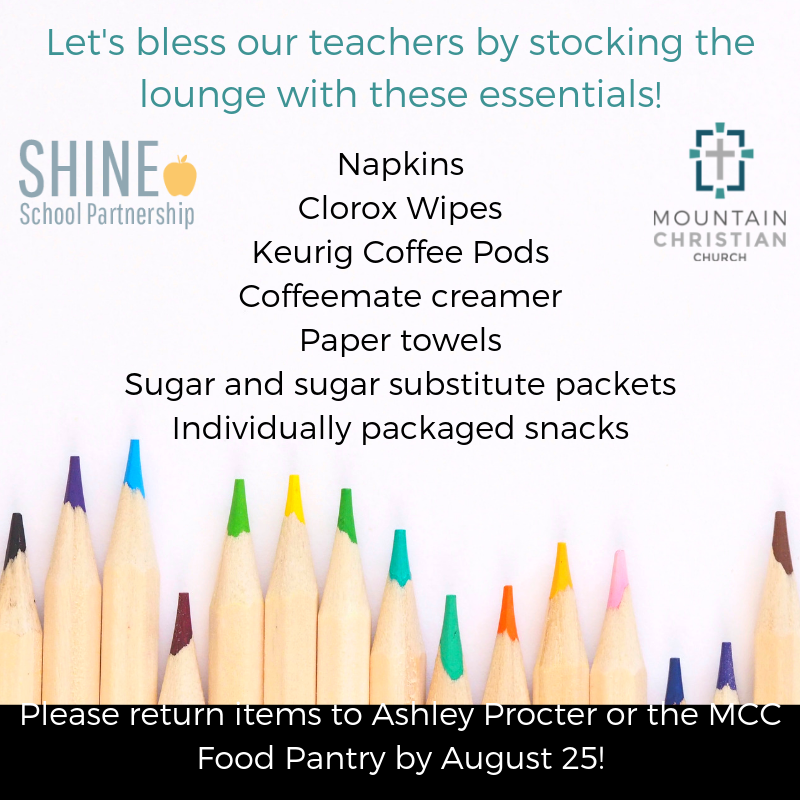 Get Involved!
Inspire! Share your experience and make a difference in a child's life! Ever wanted to inspire a little one to dream? Want to be a catalyst for change? Shine is currently developing a database of people who would be willing to share their experience in the classroom once or twice a year. Would you be willing to either speak in a classroom on your area of expertise, or help a teacher prepare a lesson? Not only would you be supporting our incredibly hardworking teachers, but you would enrich the children's learning experience as well. Additionally, you would have the opportunity to help children learn to dream, and communicate that a bright, successful future is within their reach. Click here to sign up, and become a catalyst for inspiration at A. Montoya!
Science Fair Interviewers Wanted! If you've never listened to a second grader explain his baking soda volcano, you're truly missing out! This is a great time to communicate to our A. Montoya kids that they are important, that they are capable of great things, and that their hard work is meaningful. Please contact Ashley Procter for more information or to sign up to interview kids!
Volunteer in a classroom. Just having another adult in there…a listening ear, a teammate, a friend…makes a huge difference in a teacher's day.
Drop off some teacher supplies. We've got 3 bins set up in the teacher's lounge for things like paper towels, Clorox wipes, pencils, staples, Kleenex, and pens. These are things the teachers usually have to dive into their own pockets for. Pick up a couple supplies when you're out shopping and either get them to a Shine volunteer or drop them off at A. Montoya yourself! They love to see us there.
Give a monetary donation to Shine through Mountain Christian Church. We will use your donation to supply the teachers with books, fill the supply bins throughout the year, purchase large items that classrooms need, pour out love in the form of food, supplies, and flowers during Teacher Appreciation Week, and do special projects that arise.
Pray: that God would continue to grant us favor with the community at A. Montoya, that He would open our eyes to opportunities to bless them, and that His name would be glorified in all that we're doing.
Volunteer in Coach DeMill's kindergarten P.E. class: Get some exercise, have some laughs, and help coach keep all those little guys and girls moving! Contact Ashley Procter for more information.
Help out in the Office: Jordan and Rebecca can always use help organizing, filing, making calls, and making copies. If you've got a gift for office organization, helping these ladies is a wonderful way to use it!
Spend lunch or recess with kids!: Want to really get to know the kids of A. Montoya while becoming extra eyes, ears, feet and hands for our teachers? Come hang out during recess and lunch times! You'll need an APS background check for this. Contact Ashley Procter for more information.
Please consider joining us in our effort to join our teachers in the incredible and challenging jobs they face. To enter another's life and carry their burdens with them is an act that speaks so loudly of the love of our Savior, who entered our lives and took our burdens upon Himself.
Shine Bright Database Sign-Up!
Would you be willing to either speak in a classroom on your area of expertise, or help a teacher prepare a lesson? Let's support these hardworking teachers while enriching student's learning experience! This program teaches children to dream big and communicates that a bright, successful future is within their reach. Click here to sign up! Contact Jenny Lloyd Strovas for more information.
Shine at the Science Fair
The A. Montoya Science Fair has become one of our favorite events of the year! Each March, Shine volunteers join parents and other community volunteers to interview kids about their projects and celebrate their success.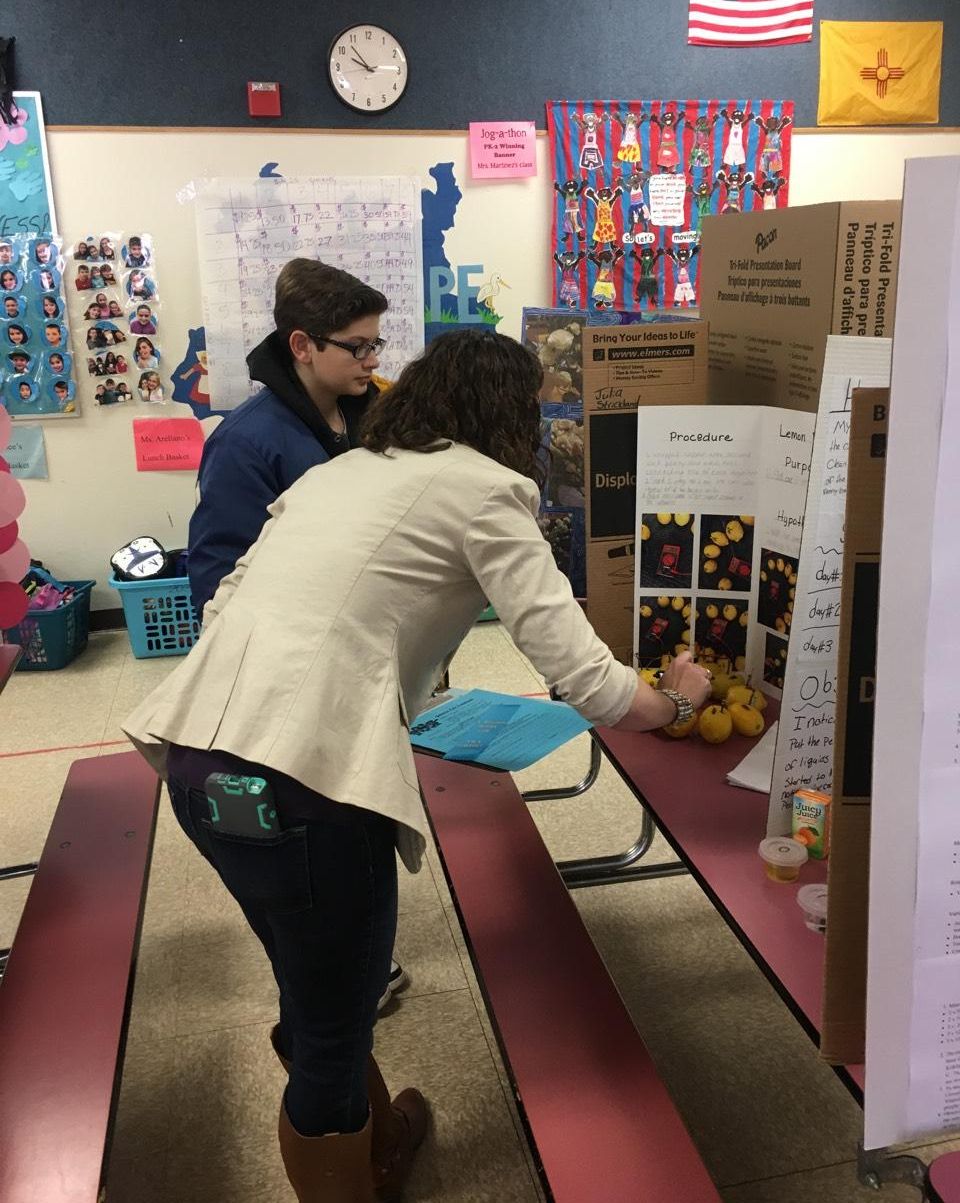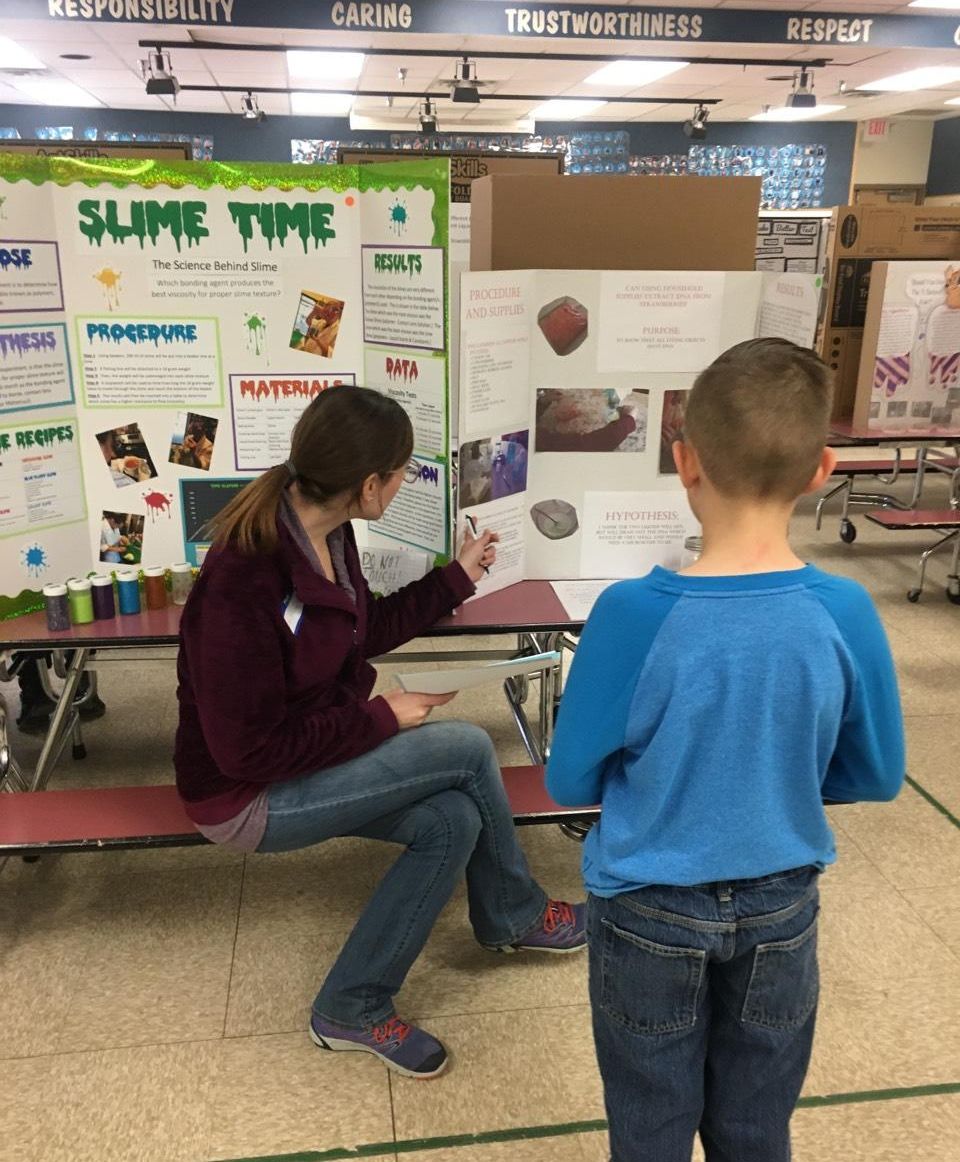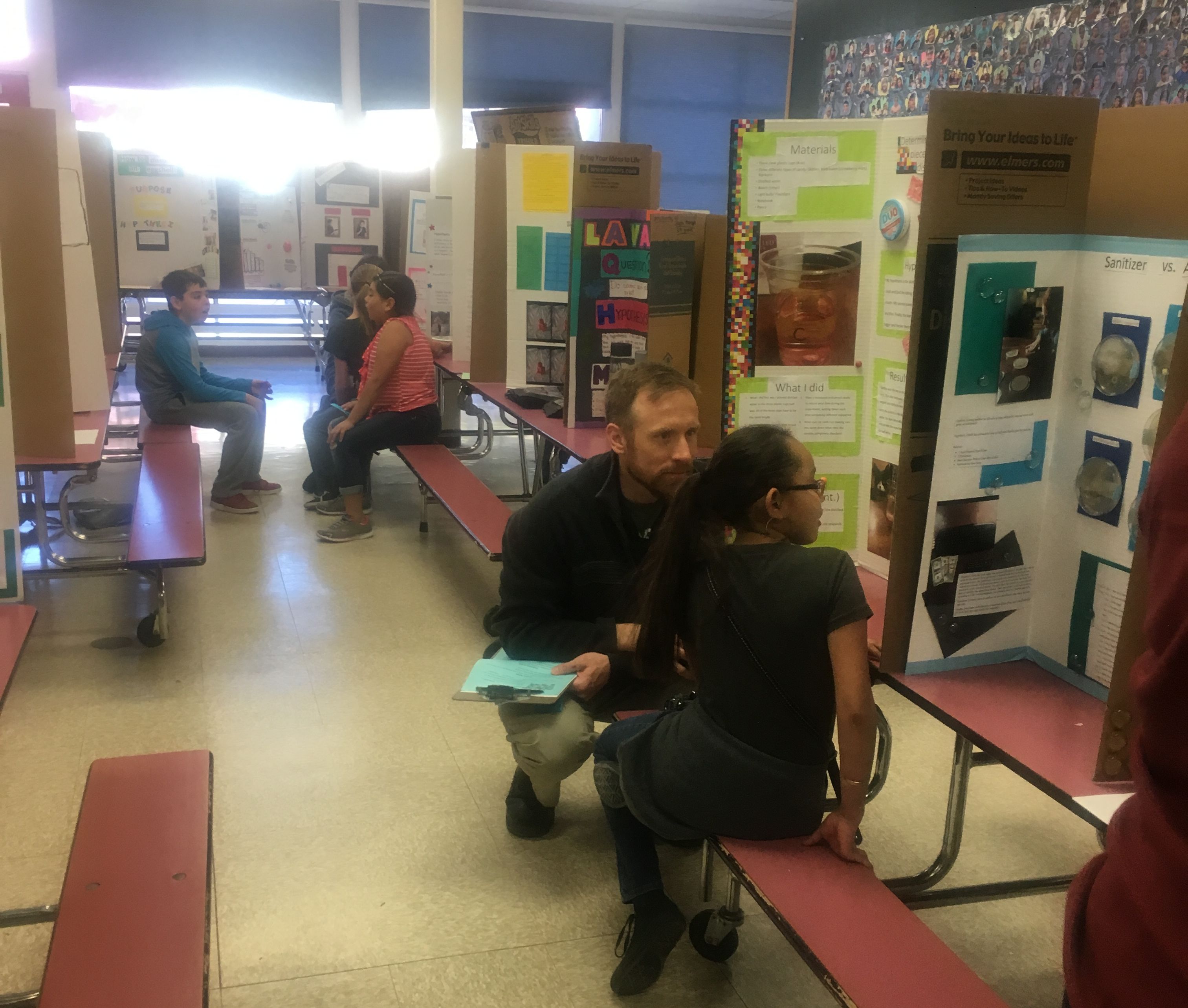 Shine Club helps with mobile food pantry
Update: While the Storehouse a mobile food pantry no longer serves the East Mountains area Shine was SO blessed to be a part of it and forever grateful for the experience!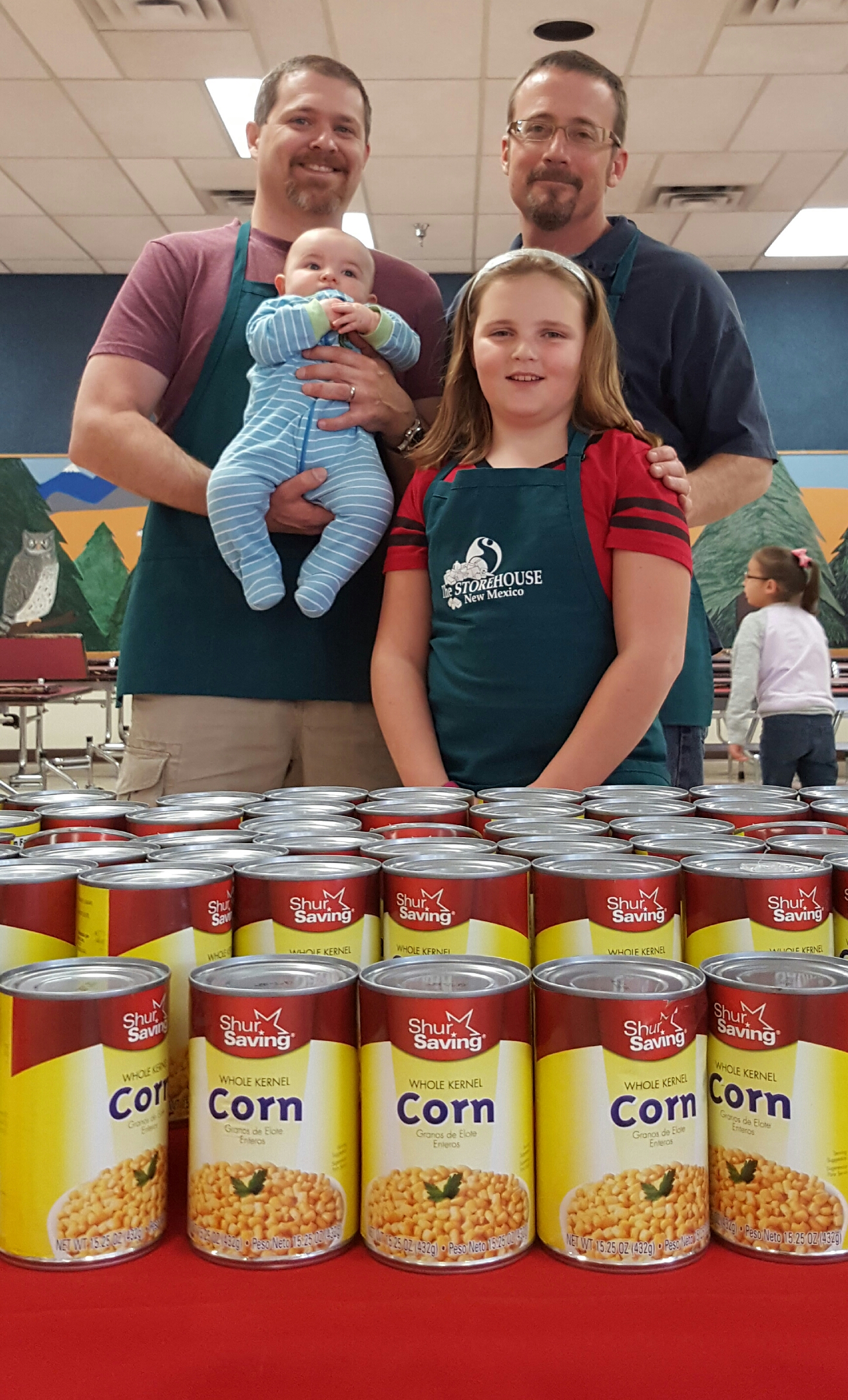 "There were so many smiling faces…so much laughter…and abundance. It was just amazing."
What do you think is being described here? A family reunion? Disneyland, maybe?
This description was actually made regarding the monthly food pantry held at A. Montoya Elementary.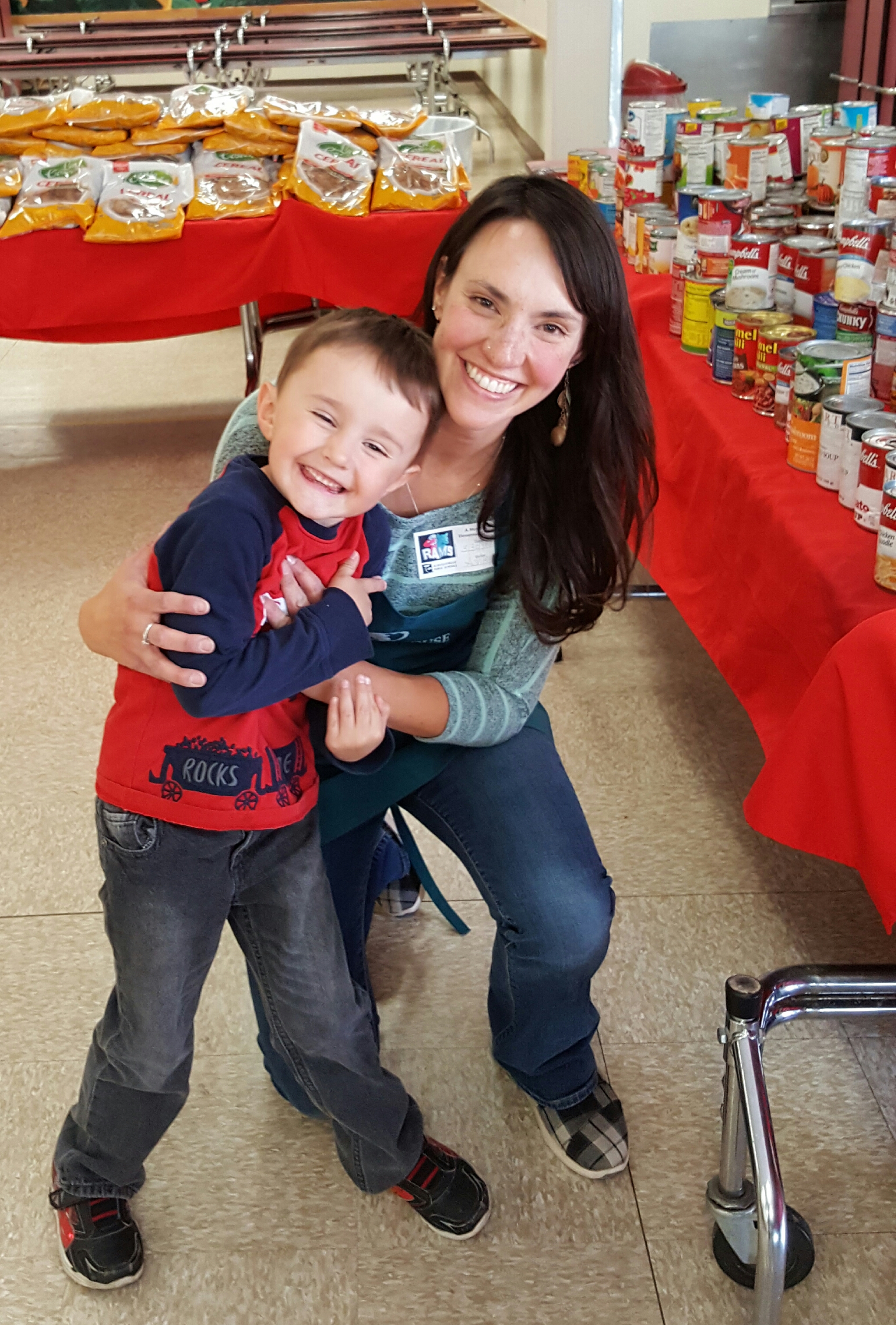 This event truly is amazing. Filling the baskets of those in need…being a part of God's provision for them…is such a humbling privilege. Simple acts like hugging the teary-eyed mom, tickling the crazy toddler, and talking TV shows with the self-conscious teen allow us to be conduits of God's love to these precious people. When people show up to this food pantry, they are hungry for more than just food. We have the opportunity to joyfully affirm their infinite worth, lend them dignity and strength, and ease their physical and emotional suffering. Again…what a privilege!