Traveling in Grace & Truth Part IV - What If I am the Wayward Fool?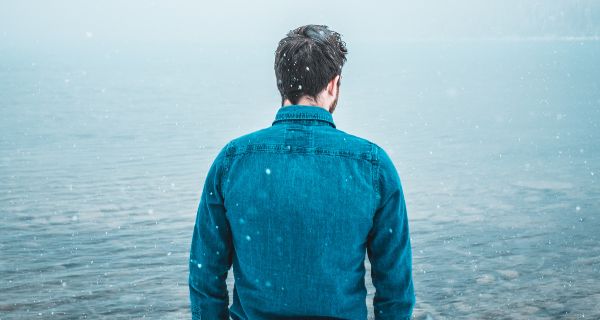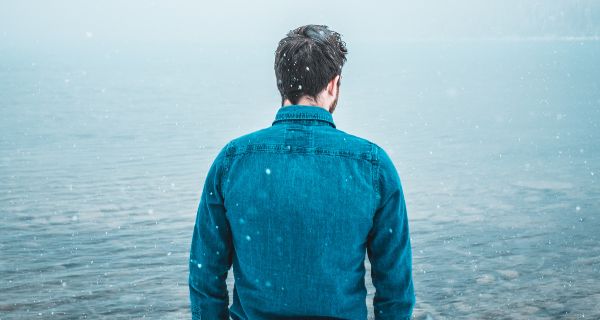 "I have also seen this example of wisdom under the sun, and it seemed great to me. There was a little city with few men in it, and a great king came against it and besieged it, building great siege-works against it. But there was found in it a poor, wise man, and he by his wisdom delivered the city. Yet no one remembered that poor man. But I say that wisdom is better than might, though the poor man's wisdom is despised and his words are not heard. The words of the wise heard in quiet are better than the shouting of a ruler among fools." Ecclesiastes 9:13-17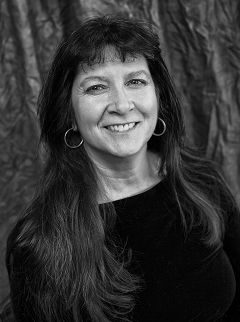 Zack Eswine shared his painfully powerful testimony intertwined with this passage at the Loving the Wayward Souls Conference. He was vulnerable and transparent in his desire to protect us from seeking after the things of the world. Here are some of his thoughts on how can we keep from, or turn from, being the wayward fool?
Note the repetition of the word, "great" in this passage.
What seems great to the proud king is worthless compared to the saving wisdom of the poor man.
The foolish king is large, fast, and famous. He is all about speed and emotions. But though the words of the wise are only heard in the quiet, they save the city.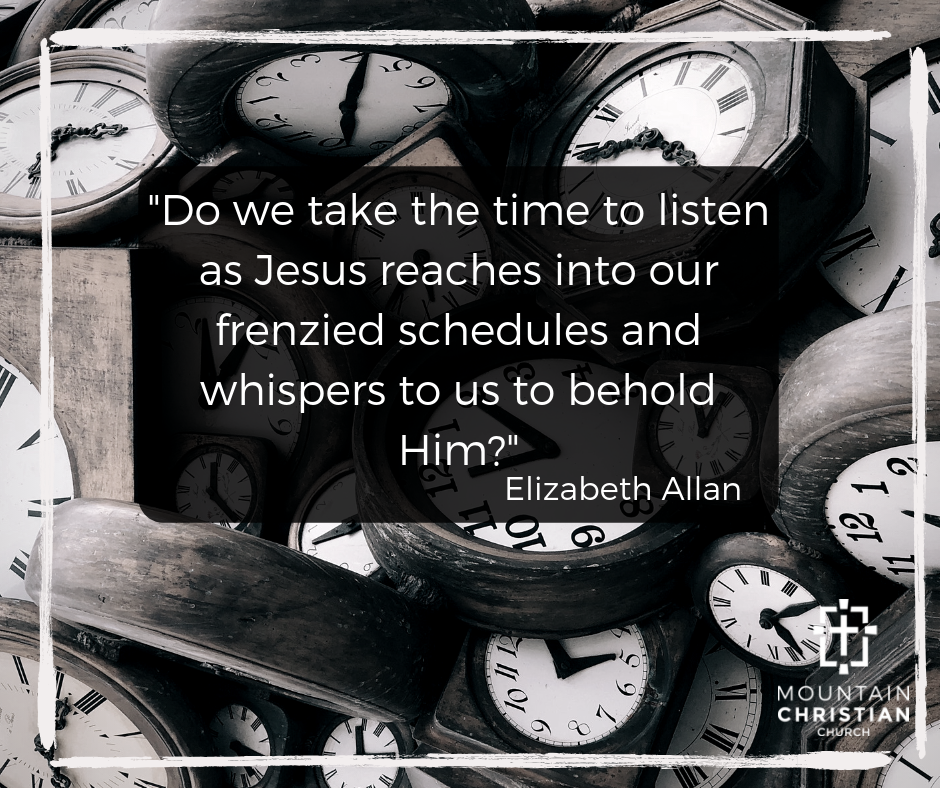 Do we take the time to listen as Jesus reaches into our frenzied schedules and whispers to us to behold Him?
On the one hand, the foolish king brings war for the sake of conquering and he does not protect the people under his care. Meanwhile, the poor man delivers the people from the onslaught and remains unknown.
How do you see people? Too often it seems we see people simply as resources used to improve our reputation. Do we consider how to best love others when we tweet, take selfies, and post on Facebook?
Instead, let us turn our back from foolishness and turn toward wisdom.
Remind yourself who our Deliverer is. Christ is not interested in our efficiency or advertising, but in our holiness. He does not bring about immediate relief, He is about the business of sanctification. He delivers in the quiet wisdom of His Father. He doesn't consume His sheep but protects them as He shares His Presence.
Are we willing to offer our presence to the people the Lord has placed in our lives? How do we comfort others? Do we cry, eat, laugh, and live 'with' them? These things take time and resources. They are not for the faint of heart or for those who live in a rush.
Does it matter to you if you are ignored by people of power, influence, and wealth? The poor wise man was not called upon by the powerful king. Can you be overlooked in order to love others? To love someone, we must commit ourselves to do small things, things that are not noticed or appreciated, and we must do them repeatedly, for a long time.
Our culture tells us that we must always be busy, be on the move, always a foot on the next rung up. What does God tell us? Are you willing to be bored in the place that God has you? Do you appreciate the beauty of where you are at right now? Adam longed for more than the Garden. You, too, are given a place to be, things to do, and people to love. These are the things that glorify God.
Mr. Eswine ended by reminding us, "Your great hope is not in being remembered. Your hope is found in knowing that the Lord remembers you." This is the Lord Jesus who prayed for you, you are already desired by God. Your identity is established before you even walk out the door.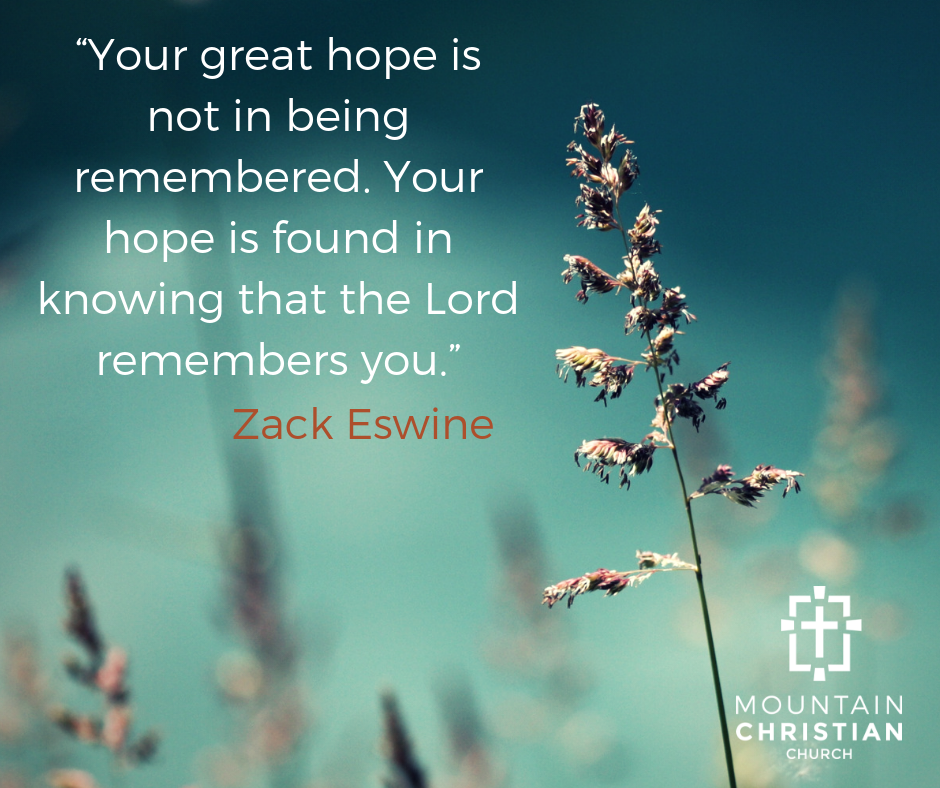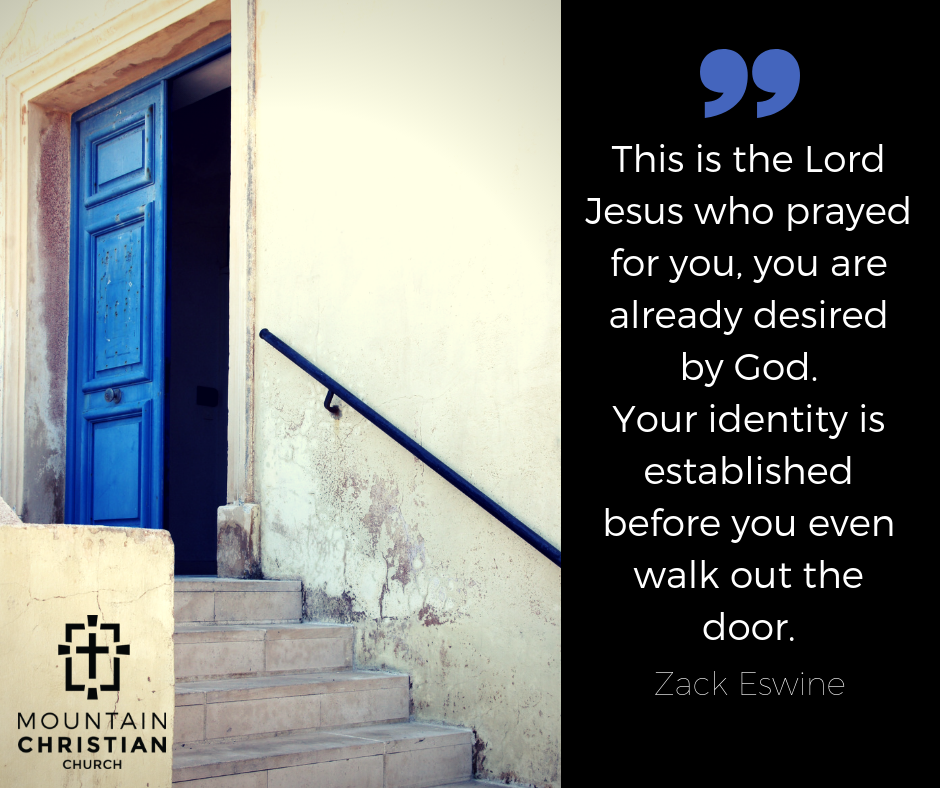 These notes were taken from Zach Eswine's talk, "A Fool's Story: From Simple-ism to Hope". You can listen to this here. If you feel that you are in a season of foolishness, please let someone pray with you. Contact me if you would like some resources.
0 comments
Announcements:
MCC Elders and Connectors are hosting a Starting Point Lunch this Sunday, January 12 after second service in the Fellowship Hall. The luncheon is a great way to learn more about MCC, ask questions and meet new people! No RSVP needed. Contact Sarah with questions.
It's time for The CareNet Baby Bottle drive! Please take a bottle off the table in the foyer, fill it with your spare change or cash, and return it to the table by January 19! Contact Joann Tallant with any questions.
The MCC Missions Team is hosting "Missions in Focus" Tuesday, January 21 and Wednesday, January 22 at MCC! It is a family-friendly, interactive event celebrating what God is doing locally and internationally! Enjoy a cultural meal, hear speakers active in local and foreign missions, and participate in activities for a chance to win prizes. Each night will be unique, educational and fun! Contact Emily Gray to RSVP or get involved!
The Women's Community Bible Study resumes Tuesday, January 14 at 6:30pm AND Wednesday, January 15 at 9:15am with Max Lucado's "Unshakable Hope" study. Childcare is available for the Wednesday morning study only. Contact Pam Cravens for Wednesday mornings or Sharon Albonico for Tuesday evenings.
Praying with others in community is rich! Join us any weekday morning for prayer at 6:00am in the Fellowship Hall. Contact Scott Walker for more info.
We are updating the church directory and will be taking new directory photos January 19 and 26 in the Fellowship Hall! Please make sure to update your contact information and your photo if A) we don't have it in the current directory or B) you look different than you did 3 years ago! Either way, we'd like a new photo and updated contact for you so please stop by and update your info!
Looking for some Biblical financial tools for 2020? Come join us for the Living Debt Free Workshop on February 1 from 9:00am – 3:00pm in the Fellowship Hall! Practical topics including what the Bible says about money, how to set up a spending plan, saving, debt payoff, and more! Lunch and child care provided! Sign up in the foyer or call Elisa Trullinger.