Living Fully Alive at VBS 2018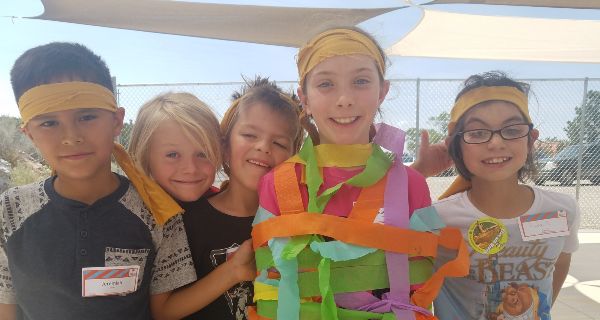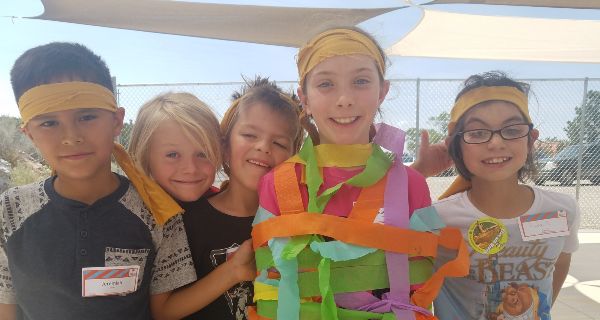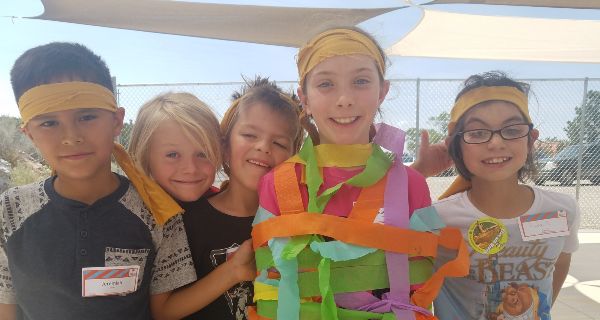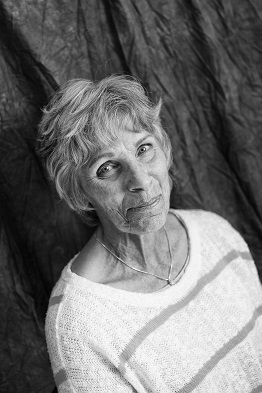 On Monday, our first day of VBS this year, we learned the "home verse" which is the hub for all 5 days' lessons of heroes from the Bible who did live fully alive for God through impossible circumstances -- for them, not for Him. Our verse: "I have come so they may have life. I want them to have it in the fullest possible way." John 10:10b
Our heroes so far - Joseph and Esther - vibrantly brought to life for the children by Molly during opening activity, have elicited a range of emotion around the room.
I have been particularly conscious of my kiddos - 4th-6th graders in our group the Flynnstone Flips! From the first minutes we spent together, quickly discovering their amazing pretzel-like contortion capabilities, have became the Flexible Flips! As an added bonus, two of my boys are returnees from last year.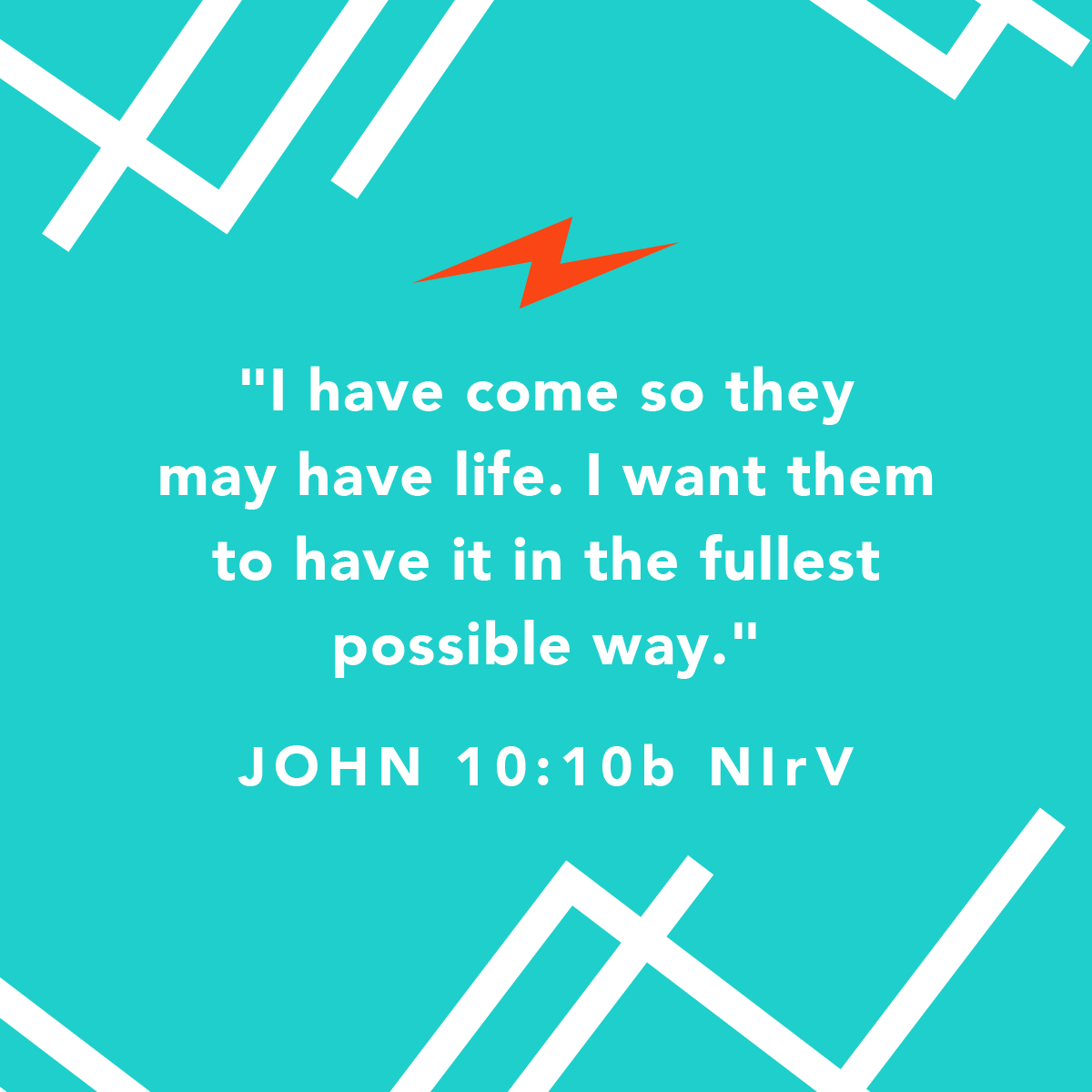 One of these boys I remembered as a dark-eyed, kind, quiet soul -- so shy. Last year my group had an odd number of kiddos so in the partnered song/dance moves, I pulled him in to perform with me. When we successfully got the claps, steps, spins right, he just lit up. That was then.
This year, when I found him on my list, I recalled his still, thoughtful observation of the goings-on and when he arrived he seemed the shy, delightful child of last year. But during these first few days of VBS, I have observed him interact and befriend boys and girls in our group, jump right in and partner up for games, answer questions - hand shooting into the air.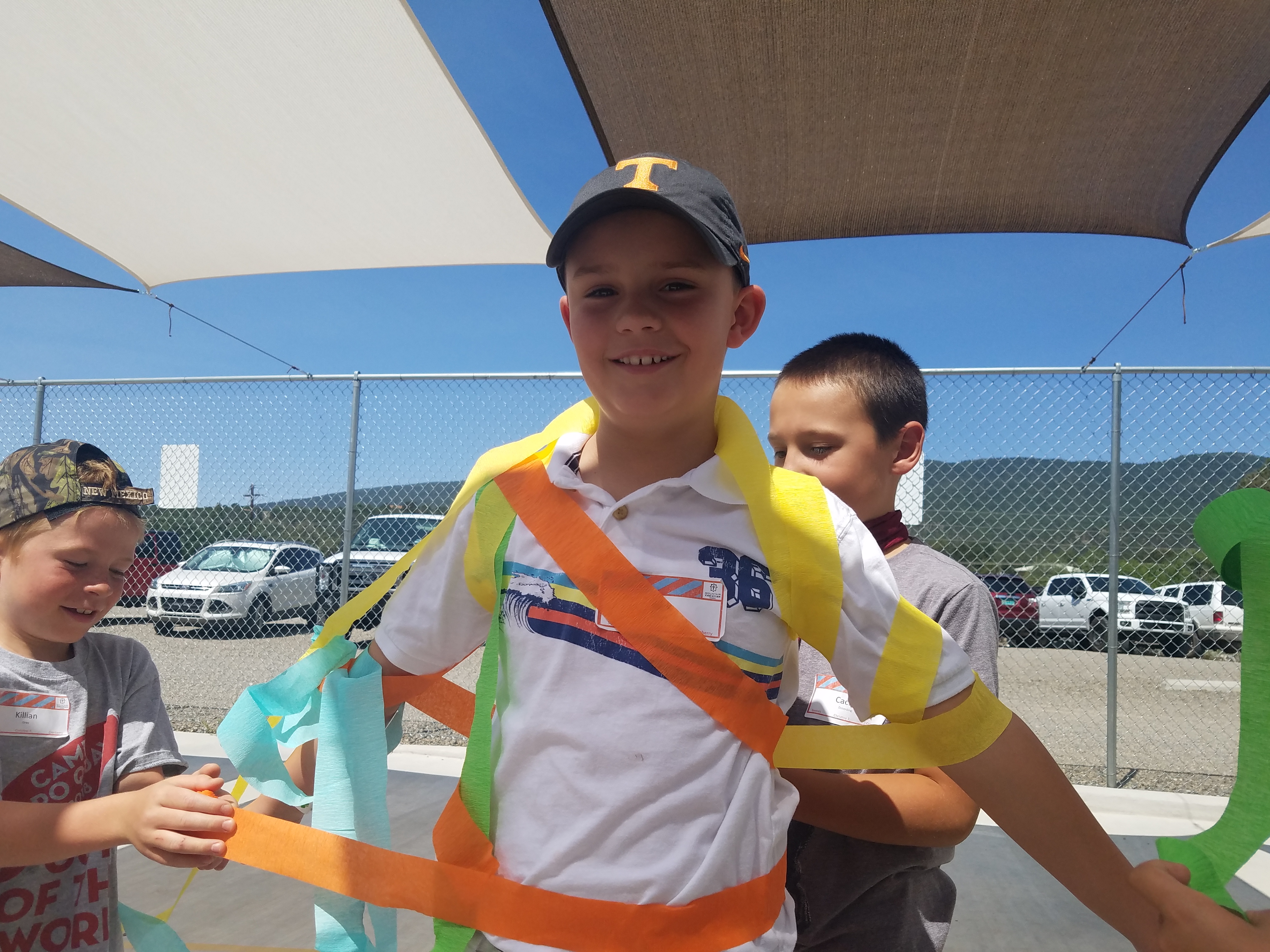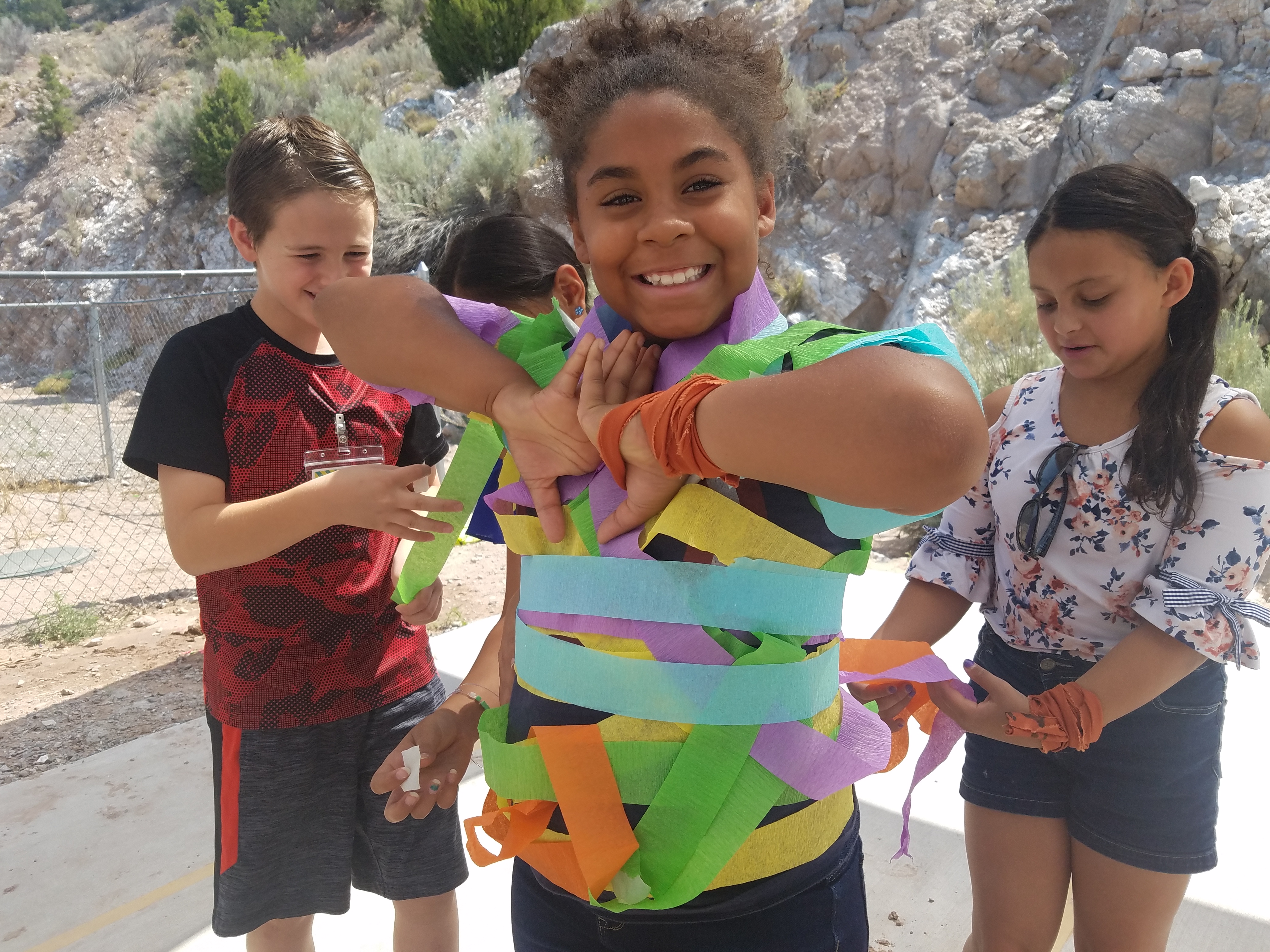 In our last activity before closing on Tuesday, a game was put forth in which small groups were given a pile of 12 cards to put in chronological order re-telling the story of Esther. We leaders held back. I was thrilled to see him arise as a gentle, emergent leader, respectful of group members, logical in explanation, listening to others' reasonings. The solution was rapid and sure, the group finishing far ahead of others.
It is amazing how God has changed this beautiful young person and is moving him along a life path that only God can see in its entirety.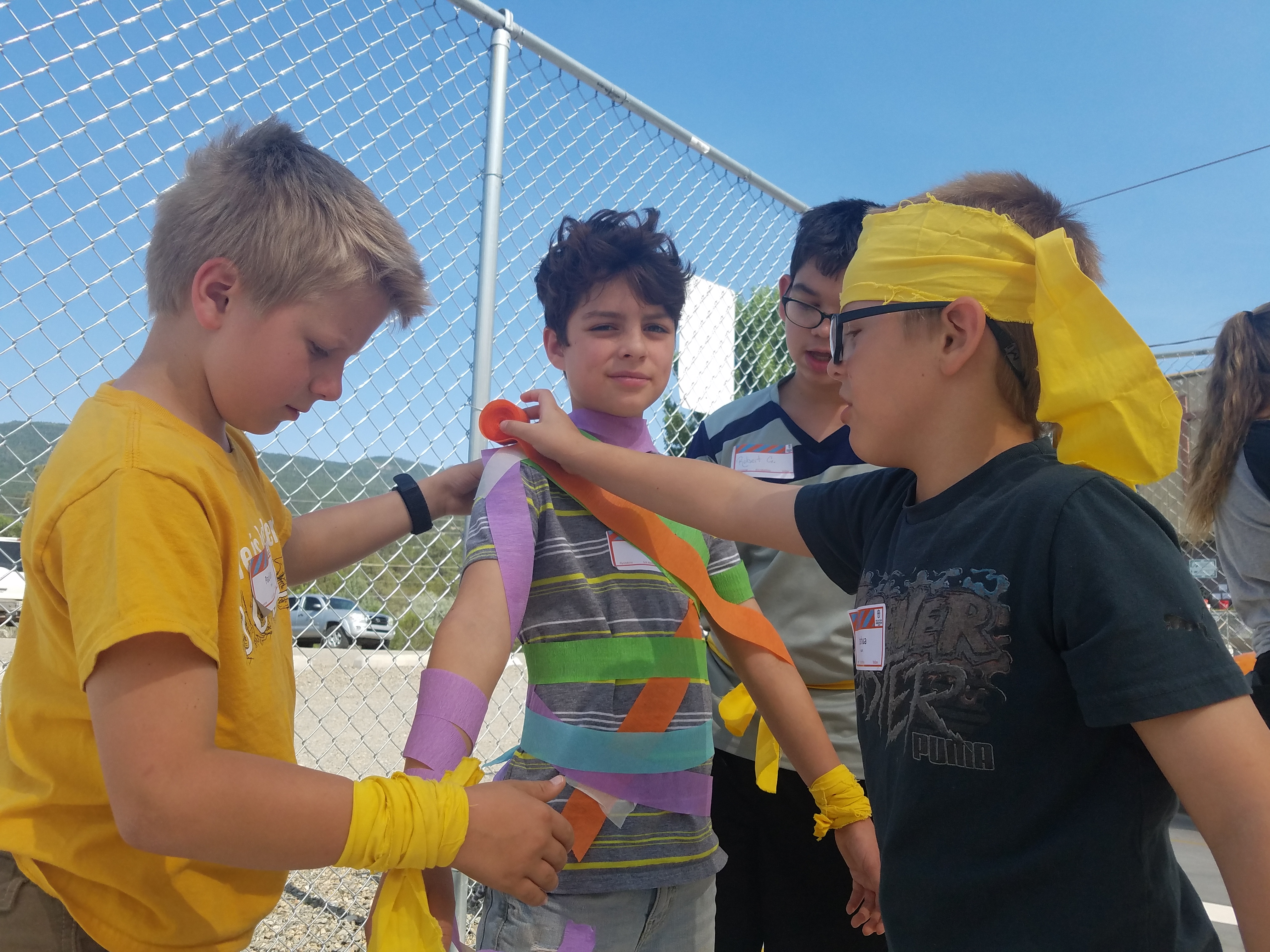 As we learned today, the path is circuitous, sometimes rocky, sometimes smooth. God reveals to each of us as much as is necessary for the moment/day/week. He knows the rest of the story. We can trust Him to put all the pieces of our journey together to complete the road to Heaven. Sure enough, Tuesday's verse was, "I know the plans I have for you," announces the Lord. "I want you to enjoy success. I do not plan to harm you. I will give you a hope for the years to come." Jeremiah 29:11
Announcements:
The Military Bible Stick is designed specifically to bring God's Word to men and women deployed in the U.S. Military. It's a small digital player pre-loaded with the New Testament and Psalms specifically selected for our troops. If you would like to support this opportunity beyond your regular giving, make a separate check to MCC, with "Military Bible Stick" in the memo. Contact Chris Willadsen for more information.
We have a terrific opportunity to spread God's love and his Word to the international students attending UNM. MCC has been working with ISI for many years helping international students as they arrive in town for the new academic year.
Volunteers are needed in several capacities:
Picking students up at airport, temporary homestays, or helping with apartment hunting
Help at welcome center
Furniture movers, pickup and distribution
Prepare dish for volunteer/student lunches (sign-up sheets will be in the foyer)
These activities will run July 31-August 17, pick the times that work best for you. There are also opportunities that span the entire school year as well:
Assist with English program
Student friendship partners (meet monthly with student)
Please contact Vince Tidwell or Stan Schug for
more information or to get involved.
The door is open to share the Gospel in our public schools! Come and be a part of Bible Club! The trainings are from 9:00 a.m. - 3:00 p.m. either
August 4th at Mountain Valley Church
in Edgewood
or
August 11th at Monterey Baptist in Albuquerque.
Contact Gail Salazar at 980-6890 or email at
sonfollower@reagan.com to RSVP.
Luke Feldner and Vince Tidwell are introducing an adult fellowship group focused on studying and discussing Systematic Theology. The planned curriculum includes ten introductory lessons on defining and categorizing theology, Christian epistemology, defining "essentials" vs "non-essentials", and the historical sources and norms of Christian belief. The goal of this new small group will be to hold each other accountable for obeying Christ's command to love the Lord with all of our heart, soul, mind, and strength. Contact the office at mccn14@gmail.com if you are interested.