Food for the Hungry Bolivia 2018
MCC is sending a ten person team of missionaries to Bolivia with Food for the Hungry March 25th - April 3rd of 2018. Please pray for their safe travels, that God would go before them and prepare the way and that He would use their gifts, knowledge and words to bless everyone they meet!

Bolivia 2017 Blogs
MORE THAN MINISTRY, MISSIONS REFRAMED
by Marvin Procter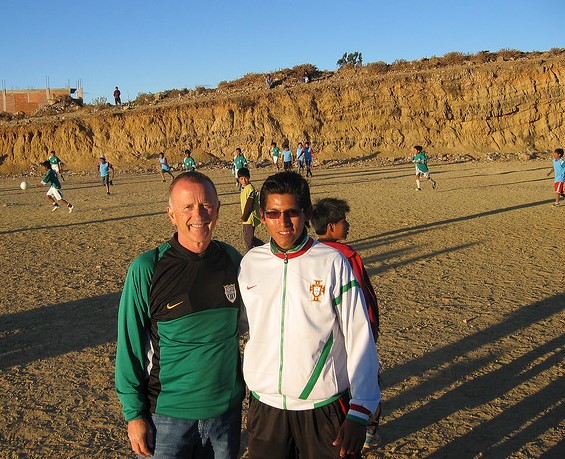 Why am I going on this mission trip to Bolivia? It's just selfishness really. Oh, it doesn't look like selfishness, in fact by all appearances it's just the opposite. When someone finds out you're going to Bolivia for ten days they applaud your sacrifice with a comment like, "It's so great that you are giving back." The appropriate reply is always, "I actually get much more out of it than I give," but no one thinks you mean that, it's just the right thing to say. The truth is, it's the truth.
I can't say I go to Bolivia to give anything; I go because I need to go, I have to go. Going to Bolivia recalibrates me, like taking your car in to get the brakes adjusted and I'm in consistent need of adjustment. Otherwise, first world problems loom so large, and God shrinks so small.
You see, many of my heroes live there. The Food for the Hungry team who tirelessly spend long hours, sometimes through tears, loving the most vulnerable; they are my heroes. The young people like Mayra and Juan Javier and Paola who grew up with FH and now work tirelessly themselves to lift Christ up there; they are my heroes. Ericka and her family who show so much hospitality when we invade their home and just hang out; they are my heroes. Sabasta, who we sponsored for years and has now graduated out of the program, has a family of her own now but still calls me on WhatsAp now and again just to remind me that she's thinking of me; she's my hero. She has taught me that even if you are only 15 and you love your family by simply taking care of them, it's enough. They are true faith heroes who inspire me and recalibrate me to be on this mission with Him.
I have to go because for 10 days I won't have control, I won't make decisions, I'll submit to someone else's agenda and I'll see God work.
If everything goes as planned sometime around midnight on March 29 I'll drag my bag off the carousel in Albuquerque and someone will be impressed that I sacrificed for the people in Bolivia.
Truth is, I'll be filled up with all they gave me and God will be bigger again.
Click here for more information about MCC's Bolivian Missions.
Published on Thursday, March 16, 2017 @ 10:13 PM CDT
IS FRIENDSHIP A MATTER OF DISTANCE
by Matt Procter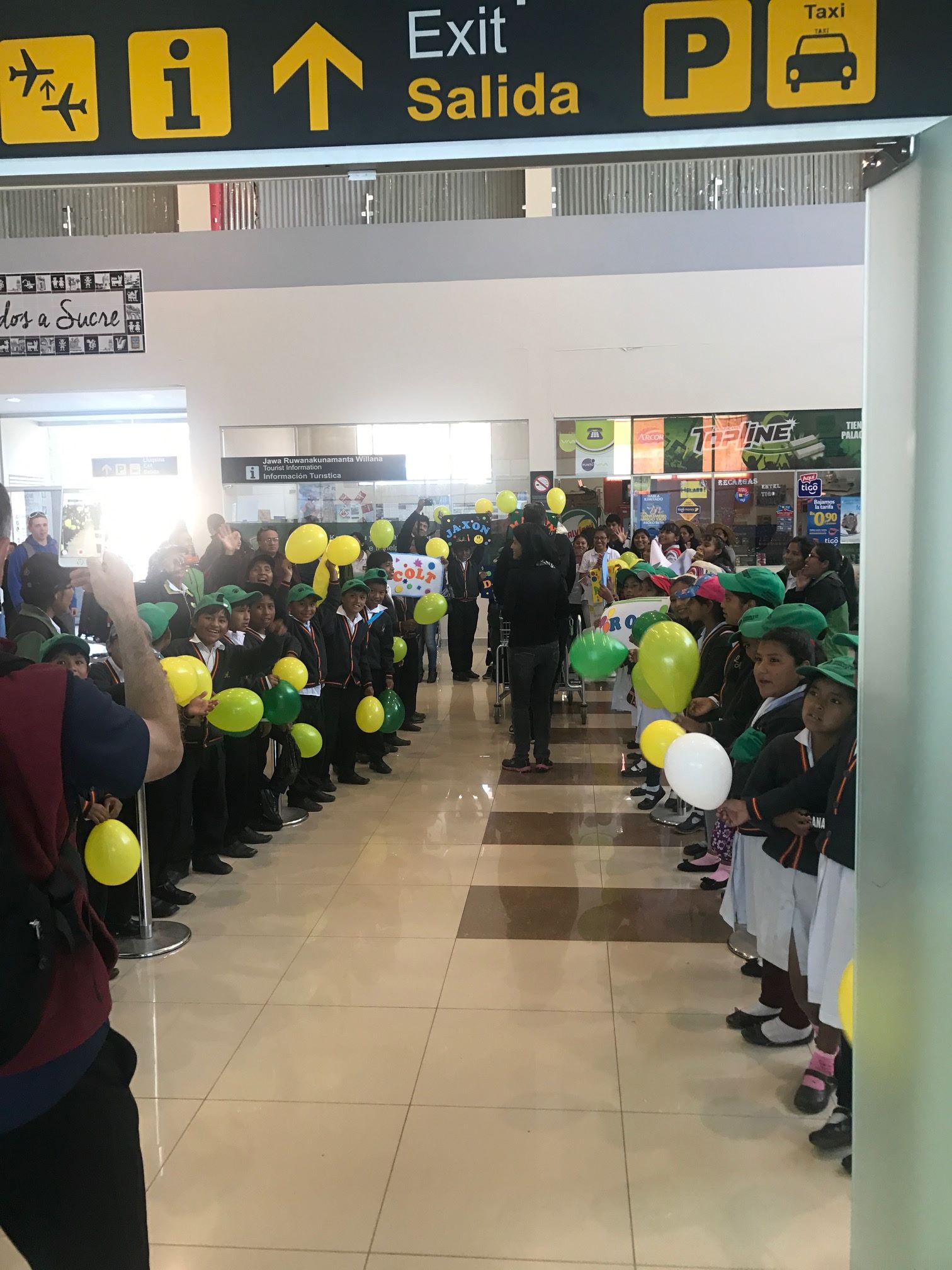 You never know what to expect when you get to Sucre. It's been 24 hours of travel. 3 planes, multiple airports, too much coffee, and the anticipation of finally making it.
There are questions on your mind every time you come here. Will this greeting be like the last one? Will they make you feel like you're the VIPs of the city? Will you sponsor kid be there? It would seem, after years of teams going, that the greetings would get stale, but they never do.
And honestly, it's not because of the banners, cheers, and games.
It's because there is something special about reuniting with friends. There is something unique about seeing brothers and sisters that you've formed deep relationships even if you're only there once a year. You see faces like Esther, Carmenita, Maria, German, and the other FH workers that you've become close to.
God made relationships to be special. He made us to have friendships and brotherhoods, and to work together on things that are bigger than us. What an amazing thing that He would create that kind of arrangement; that kind of mutual transformation.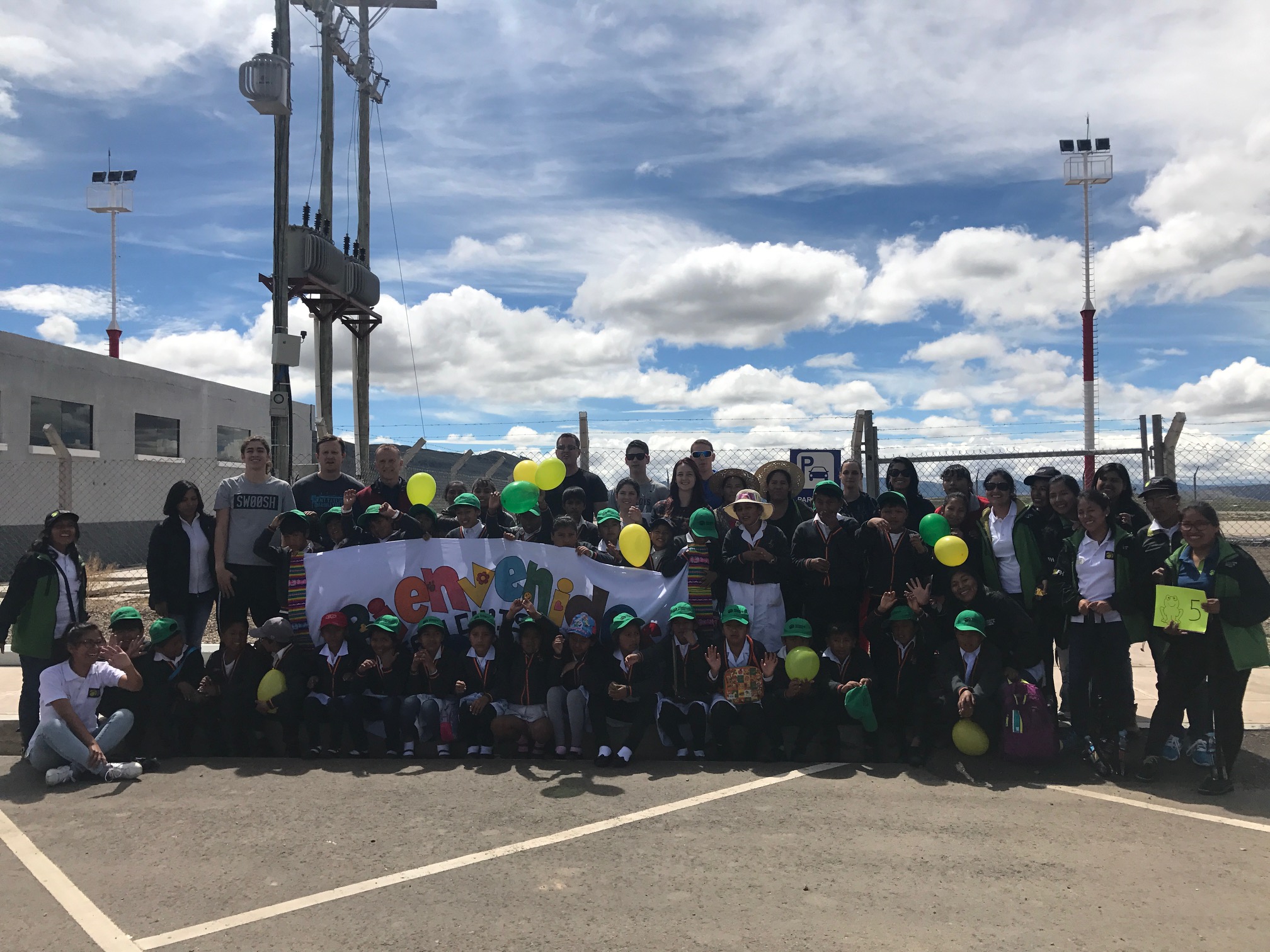 Even here in Bolivia we'll be challenged to be focused on relationships this week. To not let tasks and agendas get in the way of being with each other. And you know what? You'll be challenged in the same way.
So, what are we to do? We lay it before God, ask him to orchestrate the conversations, the time we spend, and attitude we have toward each other. He does that in Bolivia, and he does it in New Mexico.
Thank you for your prayers for us. Thursday is full of home visits, food, and a talent show. We appreciate you all!
Published on Thursday, March 23, 2017 @ 9:45 AM CDT
HELPING WITHOUT HURTING
by Marvin Procter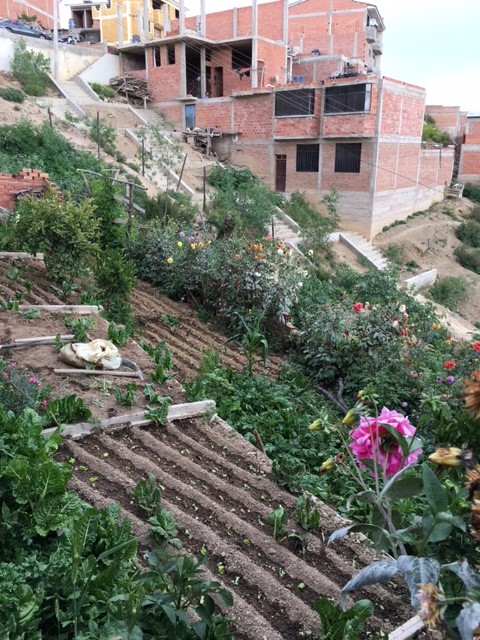 Food for the Hungry works with families to leverage their assets, no matter how small, to better their lives. We saw an example of this at the home of Christian, Jennifer Ward's sponsored child. Their home is typical for the neighborhood, with one exception, the yard is a little larger than most. So, an FH agronomist worked with the family to convert the space into a vegetable garden! The vegetables they grow, and sell in the market, pay the family's rent each month. This is a great example of helping without hurting; using our God given talents and assets to improve. The team worked with the family in their garden Saturday.
Published on Monday, March 27, 2017 @ 1:11 PM CDT
OUR LAST DAY IN SUCRE
by Jennifer Ward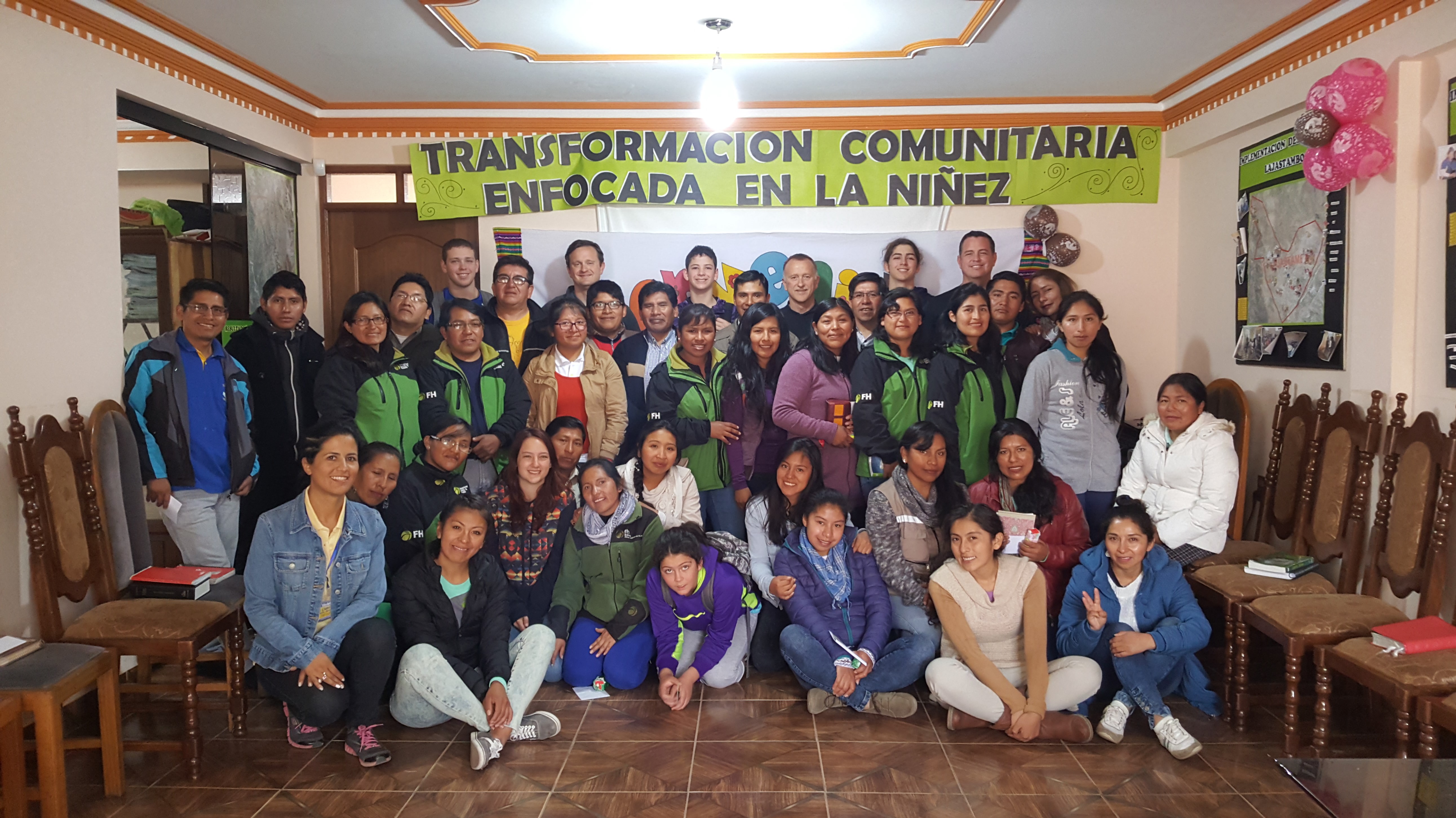 This is our last day in Sucre. During our time here we've had the opportunity to reflect on experiences and seeing God work all week! The time spent with FH, the children and the families has truly been a blessing to each of us.
We have learned so much about others and so much about ourselves. We are blessed to come to Sucre and encourage the families and children to accept God in their lives and to learn new skills to end the cycle of poverty.
We have prayed with those who are vulnerable. We have strengthened existing relationships and developed new ones. The FH staff has had such an important impact on the lives here and I have seen such progress from 2 years ago. FH has made a positive impact on Villa Margarita. We have been blessed to see examples of positive transformation within the community.
To learn more about this amazing ministry and opportunities for you to be a part of it, come to MCC's Sunday service, April 9th for a mission trip wrap-up! Mission team members will talk about their experiences, show pictures of the trip and discuss how you can get involved!
Published on Tuesday, March 28, 2017 @ 7:57 AM CDT
2018 Mission Team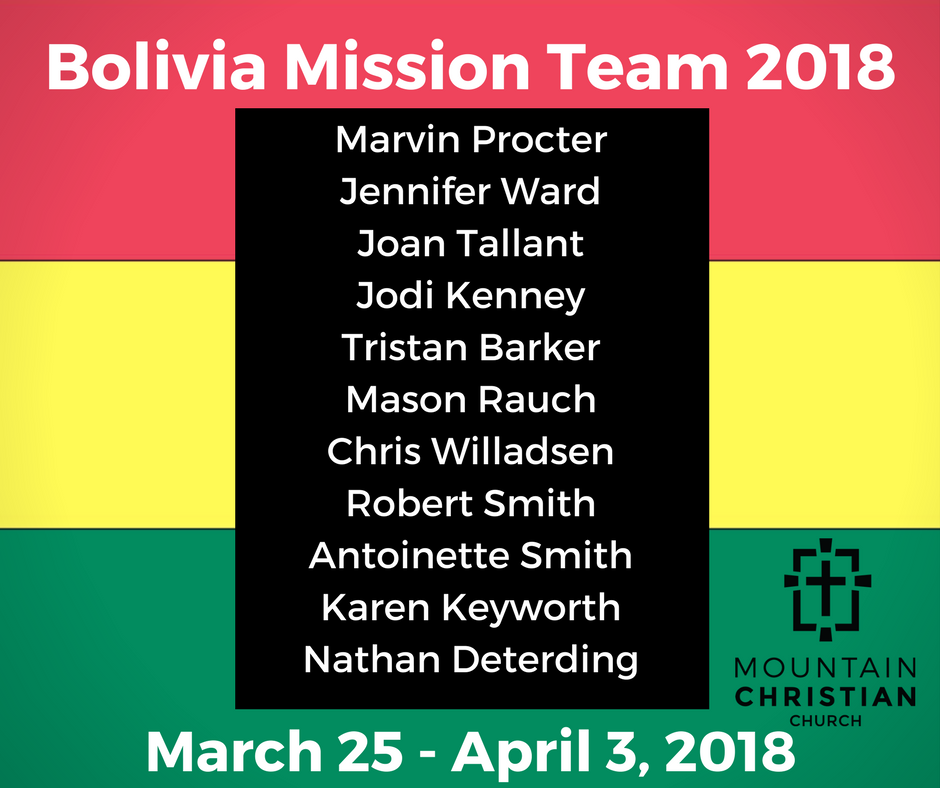 Video: FH Bolivia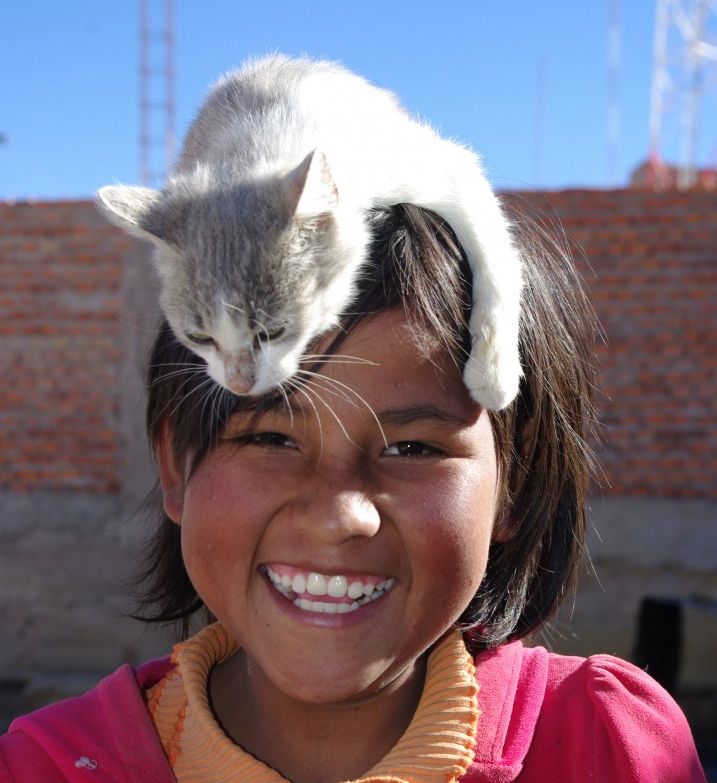 Have you ever wondered what it would be like to sponsor a child through Food for the Hungry? Click here to see FH donors experience meeting their sponsored children for the first time!
Bolivian Missions
In 2009 Mountain Christian Church joined Food for the Hungry as a Community to Community (C2C) partner in Sucre, Bolivia. The C2C initiative pairs churches and communities who work together to end all aspects of spiritual and physical hunger. The goal of the C2C relationship is to build relationships which result in "mutual transformation", that is, transforming both the church and the community to experience God's intention in all aspects of our lives.
MCC participates with FH by sponsoring children in the community, funding for specific projects, and sending short-term teams to Bolivia. Our first community partner, Horno Ckasa has "graduated", becoming self-sufficient. In March 2015 Mountain Christian began a new work with a new community, Villa Margarita.
MCC is also exploring other opportunities for transformation in Bolivia. If the Lord is willing, we would like to help establish a sustainable, profit business (A Business as Mission or BAM business) there, which would create jobs and serve as a platform for the gospel. We are also developing a plan to reach remote Quechua people high in the mountains of Bolivia.
How Do I Get Involved in Our Bolivian Missions Ministry?
Prayer for the local FH workers in Bolivia, for our short-term mission teams, and for the children our church members sponsor is always needed. Specific ways that every member of our church can be involved in our Bolivia missions programs include:
Sponsoring a child living in Villa Margarita. Child sponsorships are approximately $35/month.

Participating in a short-term mission trip. Typical trips are 8 to 10 days long and usually occur in the late spring. Costs include airfare, hotel, daily transportation, and food with a total cost of approximately $3,000 per person.

Contributing to the annual projects that Mountain Christian Church sponsors each year. In addition to your giving, donate for our Bolivia Mission to help with these projects selected by the local FH staff.

Get ready to support with prayer, money, and expertise as we prepare to execute on the business as mission (BAM) program.
For more information please contact Marv Procter at 281-9227 or Jennifer Ward at 263-6337.
Pack your bags and get ready to be a part of transformation in Bolivia!