Peacemaking as Evangelism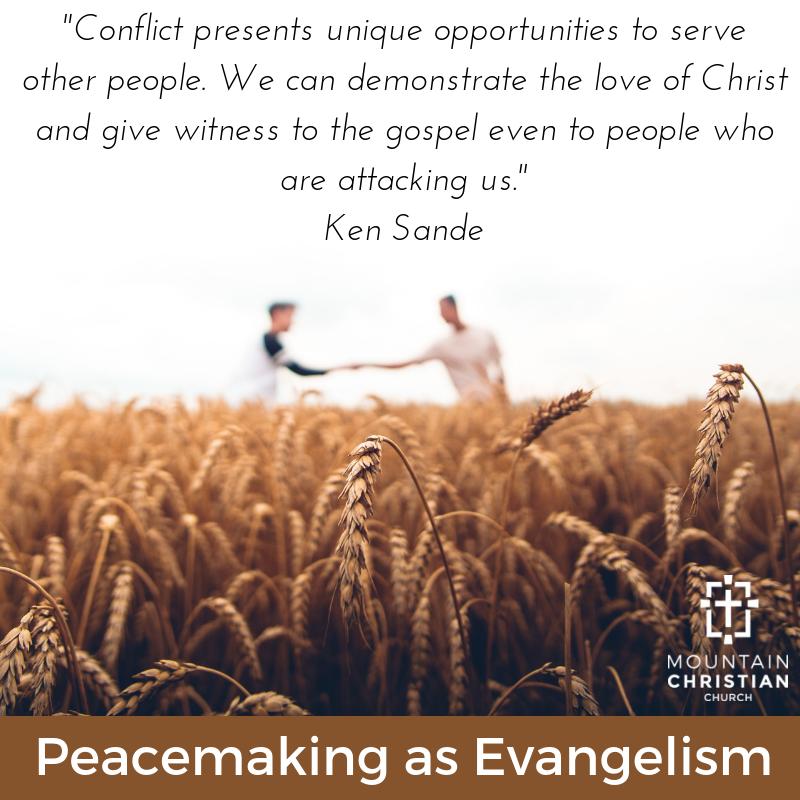 You want to build bridges for the gospel and help friends know the love of Christ?
Why not start by helping them in their conflict and relationships?
Join us for the Peacemaking as Evangelism Workshop!
Friday, January 25th from 6:00-8:30pm and January 26th from 9:00am-3:00pm.
Taught by Pastor Malizzo, Elizabeth Allan and Spencer Brown.
The workshop costs $15
Lunch is provided. Scholarships are available!
Contact Elizabeth to learn more.
Learn how God's wisdom on conflict can open eyes to the power of the gospel.
Breaking the Cycles of Shame
If you have ever felt like you don't fit in, that you aren't good enough, that everyone else has it together while you struggle to even show up, then we invite you to join us. We want you to learn that we have a God who lifts the pain of worthlessness and rejection!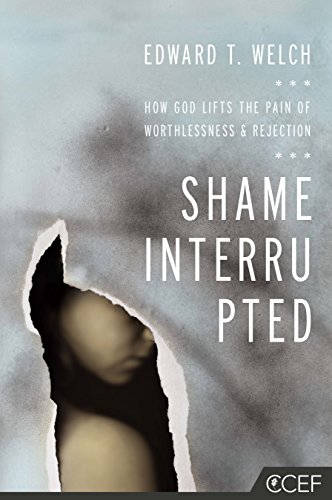 Starting Thursday, January 17th, Sara Ghormley and Elizabeth Allan will lead discussions as we prayerfully work through Ed Welch's book, "Shame Interrupted". We begin at 6:30 and end at 8, and will meet for 16 weeks. Cost is $16 per person, but scholarships are available.
Please contact Elizabeth and let her know so she can order a book for you.
Biblical Counseling
We have a holy, just, and merciful God who has lovingly revealed Himself through His Word. Although we are called to walk with one another in all seasons, transformation can be overwhelming at times. Because of this, we offer biblical counseling. Biblical counseling is different from secular counseling in that we are committed to the Old & New Testament as our authority. Not only are the faith and conduct of a biblical counselor formed by the standards of Scripture, but their theory and practice are as well. Biblical counseling affirms transparency in relationships, as well as enlists elder guidance and prayer. Please see our policy for more information.
Biblical Resources
Elizabeth is part of a board that is dedicated to training biblical counselors in Albuquerque and the surrounding area. You can learn more about ACBTC here. Our new classes will begin April 8th and will cover the biblical perspective on marriage and parenting. We meet Mondays at 2 p.m. at Trinity on the Marketplace. Please contact Elizabeth for more information.
Want to hear more? You can listen to the Competent Counselor here.
Events
How should Christians view sorrow? Join us for this weekend workshop March 22nd-23rd
Good Mood, Bad Mood - Charles Hodge. Register here.
Strengthening Relationships - a one day Gospel Centered workshop with Pastor Daniel Schuman.
Saturday, March 30th. You can register here.
Hope Awaits Retreat. A 3 Day workshop that addresses the pain that comes from abuse. You can register here.
Recommended Reading
The Peacemaker by Ken Sande
Peacemaking Women by Judy Dabler & Tara Barthel
How People Change by Paul Tripp
Hope Ahead by Barb Mulvey & Cris Paulson
If You Bite & Devour by Alexander Strauch
When Helping Hurts by Steve Corbett & Brian Fikkert
Shame Interrupted by Ed Welch
The War of Words by Paul Tripp
About Elizabeth: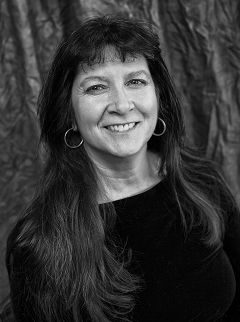 The Lord has blessed the ministry of biblical counseling that He's given Elizabeth Allan, MCC's secretary. Five years ago when she began with the Peacemaker study, she could not have known where He would lead. In the Fall of 2013 she went on to get Peacemaking Conflict Resolution training and in 2015 was certified as a IBCD level-3 counselor. She is an ACBC biblical counselor.
Co-author with Spencer Brown, Pastor at Center City Church "The Great Ascent"
The Signature of Suffering by Elizabeth Allan - Part 1
Let suffering and mourning shepherd you to the Shepherd." Frank Malizzo said in his sermon on Ecclesiastes 7:1-14.
As I savored the imagery of this sublime phrase, I was drawn into pondering and prayer.
I was reminded of last fall. I met with "Rebecca" at a Village Inn. She said, "I am in sin, Elizabeth. They keep telling me that I should be joyful because I am a Christian. But I'm not."
Her eyes began to shine with the depth of tears that were too often submerged. "Can you help me?'
"Yes, we can look at Scripture together, and I know He will change us." I reassured her, "But before you say anything else, I want you to know that joyful doesn't mean 'happy' in an earthly sense. Please tell me what is happening."
What she said broke my heart for her. Her second husband had just left her for another woman. And this was what had happened in her first marriage too. She was suffering from a terrible rash that deprived her of sleep, and her daughter was almost bed-ridden with an undiagnosed illness. Of course she felt sorrow! And I had to repent of anger…even rage…at the people who had added to this dear woman's burdens by condemning her for not being "joyful".
"Instead of denying that you are sorrowful, or that you are hurting, why don't we walk through this season of pain with the Lord?" I suggested. And I was grateful she agreed, for the work of the Holy Spirit in a broken heart inspires awe.
27 Only vlet your manner of life be wworthy8 of the gospel of Christ, so that whether I come and see you or am absent, I may hear of you xthat you are standing firm in one spirit, with yone mind zstriving side by side for the faith of the gospel, 28 and not frightened in anything by your opponents. This is aa clear sign to them of their destruction, but bof your salvation, and that from God. 29 For cit has been granted to you that for the sake of Christ you should not only believe in him but also bsuffer for his sake, 30 engaged in the same dconflict that eyou saw I had and now hear that I still have. Philippians 1:27-30
How would it be if we heeded these words for ourselves? How much of our effort is spent on insulating ourselves from pain and even discomfort? Instead of trusting the Lord to walk us through the purple shadowed valleys of pain, we trust in entertainment and hide ourselves from it. We numb it with medication, alcohol, pornography, sex, food, or friendship. We think to ourselves, "If only…" and we miss what He has for us.
Curious about Biblical Counseling?
Join us to learn how to do soul care
November 9th - 10th!
As Christians, we are called to love one another, bear one anothers' burdens and do life together. How can we know if we are loving well?
Join us for a weekend of learn to provide one-to-one biblical care in your church. Whether you're looking for training in biblical counseling or just want to grow more confident as a disciple-maker, this weekend will help you grow in the care you provide for others.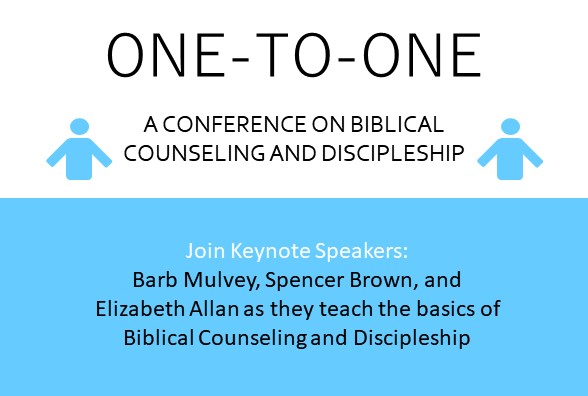 Register for the One to One Conference November 9th & 10th.
We hope you will join us here at MCC to learn more!
Check out The Competent Counselor podcast to learn more about Biblical Counseling and hear from One-to-One Speakers Spencer Brown and Elizabeth Allan.
The Signature of Suffering by Elizabeth Allan - Part 2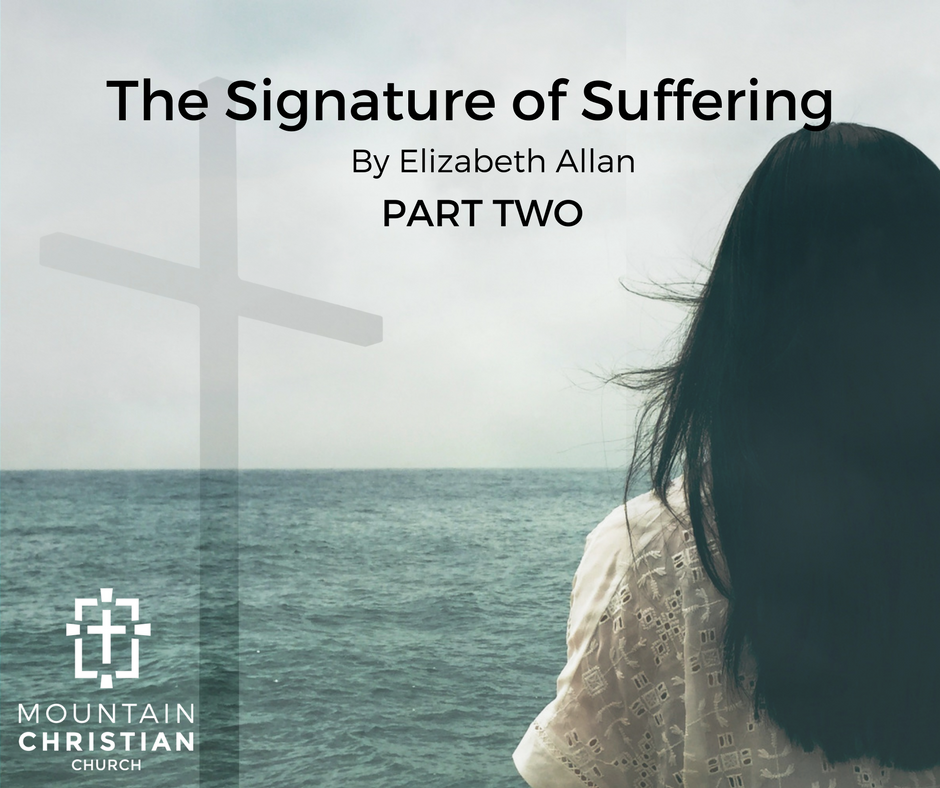 "Rebecca" and I met every other Monday at the Village Inn. During those six months, she read Psalms where the Psalmist cried out to a God who hears, she read of the perseverance of a persecuted people in 1 Peter, she read of the hope of a merciful Savior who seeks to transform His people into holiness through suffering in Romans.
And she believed and trusted His Word, and He lovingly drew her through the pain. She saw more of His love for her through this season than she had in over forty years.
"Have this mind among yourselves, which is yours in Christ Jesus,1 6 pwho, though he was in qthe form of God, did not count equality with God ra thing to be grasped,* 7 but semptied himself, by taking the form of a tservant,2 ubeing born in the likeness of men. 8 And being found in human form, he humbled himself by vbecoming obedient to the point of death, weven death on a cross. 9 xTherefore yGod has zhighly exalted him and bestowed on him athe name that is above every name, 10 so that at the name of Jesus bevery knee should bow, cin heaven and on earth and under the earth, 11 and devery tongue confess that Jesus Christ is eLord, to the glory of God the Father." Philippians 2:1-11

Do you think that our Savior does not know what it is like to be unloved? To be ignored? To be betrayed? Did He not endure physical pain? Scripture tells us He did not even have a home while on earth. And yet, He willingly chose to suffer a cursed death for the sake of glorifying His Father by redeeming a people to Himself for eternity.
When we tell a lost world about Him and His sacrifice, do we model it? Not only are we sanctified by our suffering, but we are called to be a testimony to His faithfulness through it. Holy Spirit, forbid us from ever forgetting this truth.
Suffering is not a terrible thing; it is not the opposite of blessing, but is a well-chosen dispensation designed to sanctify us, as well as to be a witness to a dark and lost world. Suffering is a gift from the Lord, and yet how often do we flee from it?
This is tragic. We stunt our spiritual growth when we do not allow the Lord to work in us. There is purpose in our pain, and we can embrace our Savior as His Spirit labors in us to complete the good work He has begun.
The Signature of Suffering by Elizabeth Allan - Part 3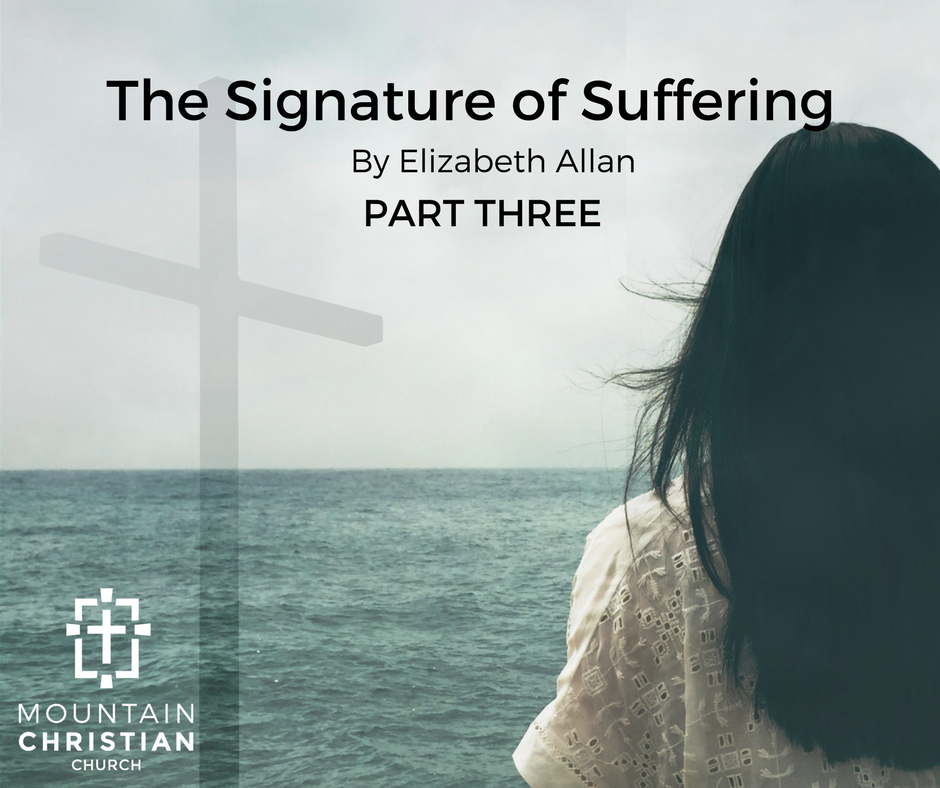 12 Therefore, my beloved, fas you have always gobeyed, so now, not only as in my presence but much more in my absence, work out your own salvation with fear and trembling, 13 for hit is God who works in you, both to will and to work for ihis good pleasure. 4 Do all things jwithout grumbling or kdisputing, 15 that you may be blameless and innocent, lchildren of God mwithout blemish nin the midst of oa crooked and twisted generation, among whom you shine pas lights in the world, 16 holding fast to qthe word of life, so that in rthe day of Christ sI may be proud that tI did not run in vain or labor in vain. 17 Even if I am to be upoured out as a drink offering upon vthe sacrificial offering of your faith, I am glad and rejoice with you all. 18 Likewise you also should be glad and rejoice with me. Philippians 2:12-18
I have been so blessed that Rebecca allowed me to enter into her suffering with her. I saw a woman emerge whose love for her Savior extended to a lost world. She started carrying bibles with her, and would share them with anyone who would agree to take one. She lovingly witnessed to strippers in Las Vegas, to a young man coming out of a satanic cult, and even opened her home to a bible study with a mother who came out of prostitution.
You see, by diving into His Word, she learned more about Him, this God that we worship. She learned more about His love for her, and who she was in Him. And as she grew, she affected others.
And joyful is the first word I would use to describe her.
When we read the book of Job, Satan's first taunt is that of course, Job loves God because God spoils him. But what happens as the plot unfolds? By allowing the atrocious afflictions, we see Job first asserting beautiful biblical truth to his uncomprehending friends. As the torment continues, we also see God draw out Job's sin of pride so that he can repent and God can be glorified. At the end, Job is given the privilege of interceding for the very men who mocked him. And Satan is vanquished and put in his place.
What if Job had given up? What if Jesus had given up? What would be lost? I think these are questions we must ask ourselves if we are to embrace our suffering.
I don't know what God will do. I don't know what our sufferings will look like – emotional, physical, or spiritual. Will we be persecuted? Or will it be a careless remark that hurts our feelings? I don't know.
But I do know this---a holy God loves His people and prepares them for an eternal kingdom with Himself.
And this process includes making us patient, making us humble, making us meet, shaping us into people who forgive and seek the other's eternal interests instead of our own immediate comfort.
And He says His grace is sufficient for us. Do you believe this? Is it? Or do you think you need His grace plus…that person's approval, the new car, your husband's attention, your friend's time?
None of those things are bad, in and of themselves, and there are always things to work through in relationships, but they are not needs. Wants, strong wants, maybe, but Jesus provides everything we need.
You will suffer. What will you do with it? Will you enter into it with the covenant and intentional God and see what He has for you in it?
Just like Rebecca, you were never meant to walk alone. Do you need someone to walk with you? Please contact Elizabeth at 505-281-3313 to discuss how we can serve you.